Tamarind gula melaka glaze with pork fillet and roasted japanese pumpkins
Think of the SousVide Surpreme as a slow cooker but way more foolproof. It retains the flavours and nutrients of food with its low temperature cooking. This is a worthy investment for your kitchen if you are a meat lover and wants your piece of steak (its connective tissues and muscles get tenderised at a precise temperature for that perfect doneness) although it works great on vegetables and fruits too.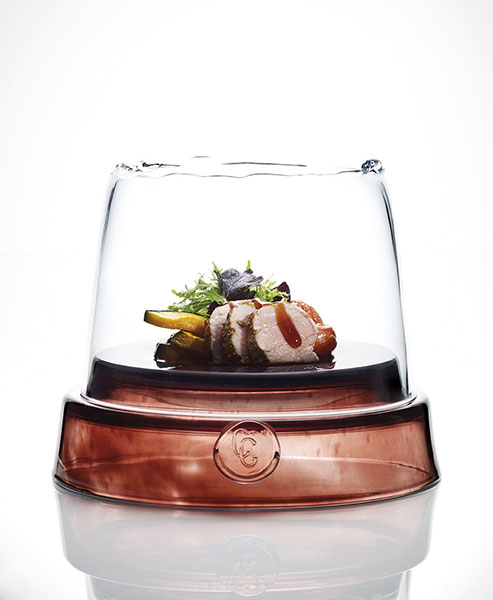 Serves 4
Prep time 40 minutes
Cook time 2 hours for sous vide, 20 minutes for assembly
pork
1tsp paprika
1tbsp coriander powder
1tsp cumin powder
1tsp salt
1tsp coarse ground black pepper
2 pieces pork tenderloin, about 460g
sauce
2 tbsps oil for cooking
2 stalks lemongrass, roughly cut
½ onion, sliced
1 chili, rough cut
10g ginger
10g garlic, chopped
150g gula melaka (palm sugar)
3 tbps fish sauce
2 tbsps tamarind paste, dissolve with some water, sieve before using
200ml water
2pcs kaffir lime leaves
1tsp chopped torch ginger flower (bunga kantan)
garnish
300g Japanese pumpkins, cored and cut into crescent shape wedges
200g cherry tomatoes
extra virgin olive oil
salt to taste
• Combine the spices and salt to make a mix and rub this mixture all over the pork tenderloin. Pre set the sous vide machine at 55°C and vacuum pack the pork fillets. Cook in sous vide for 2 hours.
• Heat oil in pan, sauté lemon grass, onions, chilli, ginger and garlic till fragrant. Add Gula Melaka, fish sauce and tamarind juice. Pour in water and bring to boil, simmer till syrupy.
• Add kaffir lime leaves to infuse for 10minutes when glaze is ready. Strain sauce and discard the solids.
• Preheat oven at 180°C. Drizzle olive oil over the tomatoes and pumpkin. Roast vegetables in oven for 20minutes.
• Remove pork from vacuum bag and seared on all sides to get and evening browning.
• Divide roasted vegetables into 4portions and slice up the pork fillet. Arrange pork fillet on roasted pumpkins and serve with tamarind glaze.