Tai temarisushi
Chef Kagata says: "This is a great party recipe. The different garnishes complement the light taste of madai and add colour to the dish."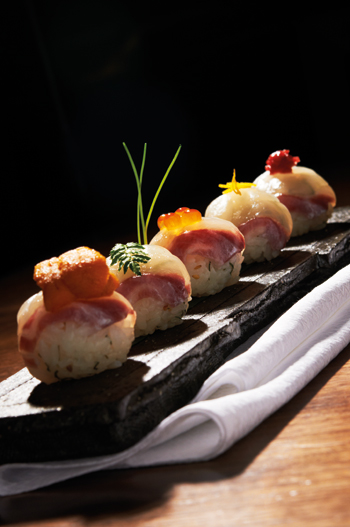 Serves 4 Prep time 30 minutes
Cook time 15 minutes
sauce
25ml mirin
100ml soy sauce
3g konbu
3g katsuobushi
100 to 125ml sushi vinegar (look at bottle label for appropriate vinegar to rice ratio)
500g Japanese rice, cooked
oba leaves, shredded (for colouring)
roasted sesame seeds
200g red sea bream fillet
small pinch salt
rice vinegar, to wash sea bream
garnish
20g uni
15g ikura (salmon roe)
5g yuzu
10g plum paste
4 piece kinome (young leaves of Sichuan pepper tree)
white sesame
shouyu
wasabi
• To prepare sauce, boil mirin in a small pot until alcohol evaporates. Add soy sauce and konbu.
• Add katsuobushi into mixture before boiling. Leave over low heat for 5–10 minutes, or until slightly reduced so that the soy sauce taste is milder. Leave to cool, then pour through strainer to remove konbu and katsuobushi.
• To prepare sushi rice, add sushi vinegar to warm rice and mix quickly. Add desired amount of shredded oba leaves and roasted sesame seeds and mix well.
• Remove skin of sea bream fillet and cut into thin slices. Sprinkle salt on the slices and gently spread evenly until salt dissolves.
• Wash sea bream slices with rice vinegar then pat dry.
• Mould one slice of sea bream and 20g sushi rice into a ball, then wrap in clear plastic wrap to make it compact. Remove plastic wrap and repeat till rice and bream are finished.
• Garnish sushi balls with uni, ikura, yuzu, plum paste, kinome or white sesame.
• Plate sushi balls and serve with sauce or shouyu and wasabi.
Chef Kagata says: "This is a great party recipe. The different garnishes complement the light taste of madai and add colour to the dish."