Sweet riesling gold flake osmanthus jelly
The off-dry Riesling is able to show off flavours of ripe peach and juicy pear in the refreshing jelly dessert. Subtle mineral notes of the wine work well with the flowery scent of osmanthus.
Wine: 2010 Chateau Ste Michelle Columbia Valley Riesling, Washington State, USA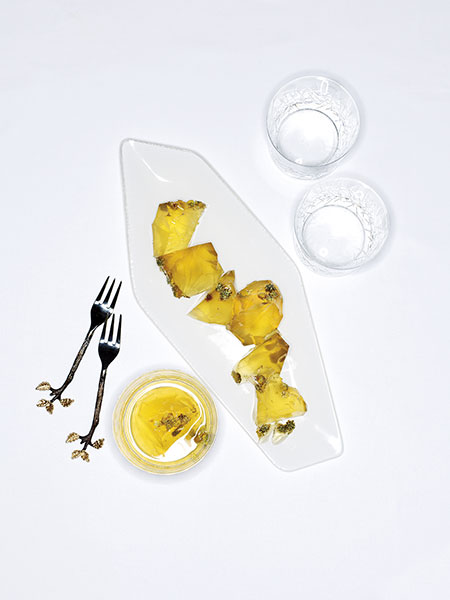 Serves 1
Prep time 10 minutes
Cook time 20 to 25 minutes + 6 hours chilling time
1 bottle Chateau Ste Michelle Columbia Valley Riesling or any other dry Riesling wine
2 tbsp fresh pineapples, diced
2 tbsp osmanthus syrup
1 tbsp white rock sugar
20g wolfberries
1 tbsp maple syrup or honey
6 packets gelatin powder
garnish
2 tbsp honey or Golden syrup
1 piece edible gold flake
Put all the ingredients except gelatin in a big pot.
Bring the mixture to a boil then add in the gelatin powder. Whisk until the powder is fully dissolved.
Pour the mixture into silicon moulds and allow it set in the fridge for at least 4 to 6 hours.
Drizzle golden syrup or honey over the jelly and adorn with edible gold flakes.