Super duper chocolate toffee sacher
SUPER DUPER CHOCOLATE TOFFEE SACHER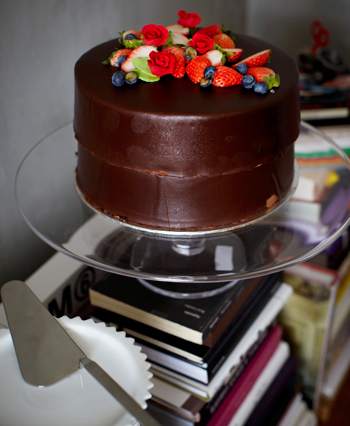 Serves 8 to 10
Prep time 20 minutes
Cook time 55 minutes
300g butter
330g icing sugar
300g dark chocolate
2 tbsp water
6 egg yolks
2 tbsp rum
6 egg whites
30g icing sugar
300g all-purpose flour (pre-sifted)
8 tbsp apricot jam
chocolate icing
240g granulated sugar
½ cup water
300g dark chocolate
½ tsp butter, melted
• Grease 15-inch round cake tin with butter, then dust lightly with flour.
• In a whisking bowl, cream butter with 300g icing sugar till creamy.
• Melt chocolate with 1 tbsp water. Chocolate should be soft, but not hot.
• Add egg yolks and melted chocolate gradually to butter and sugar mixture.
• Add rum to mixture and stir lightly. Set aside.
• Preheat oven to 185°C. Whisk egg whites with remaining icing sugar until stiff.
• Slowly put beaten egg whites into remaining mixture, alternating with all-purpose flour.
• Bake mixture in buttered and floured round cake tin for about 50–55 minutes. When baked, cool for 2 minutes, then remove to cooling rack.
• To make chocolate icing, dissolve granulated sugar with ½ cup water in a saucepan, then bring to a boil. Turn off the fire and let cool.
• Brush the sides of the saucepan with a brush dipped in cold water, to prevent crystals from forming.
• Melt chocolate till soft, but not hot. Add lukewarm dissolved sugar into melted chocolate, then add ½ tsp melted butter and stir well. Let cool.
• Using a spatula, spread chocolate icing on cake.