Sundried tomatoes with feta cheese and herbs
Sundried tomatoes are tossed with creamy feta, crispy garlic, and bracing herbs for an intensely flavourful cheese-lover's take on the Italian classic.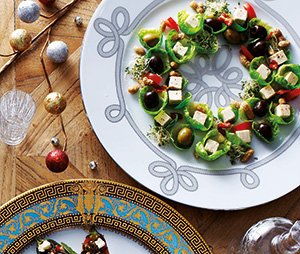 Serves 4 Prep time 30 minutes
Cook time 10 minutes
feta cheese mix
100g feta cheese
100g sundried tomatoes, cut to small strips
pinch rock salt
pinch freshly cracked black pepper
45g black Kalamata olives
45g green olive
1 tbsp parsley, chopped
2 tsp thyme, chopped
1 tbsp crispy fried garlic, crushed finely
2 tbsp olive oil
garnishes
100g Brussels sprouts, stem removed and leaves plucked
80g alfalfa sprouts
Combine the feta cheese mix ingredients together and let marinate for 30 minutes.
Combine the cheese mix and garnishes together and serve.
Olives add brininess while tomato yoghurt brings a boost of brightness to these communal dips. Serve with breadsticks, crackers or crudités and let your guests help themselves to seconds.