Summer-weight erwtensoep (pea-soup) with crispy parma ham
This soup is a meal in itself, served thick and hearty in the cold Holland weather, but it's been lightened here for tropical weather enjoyment with thinner texture and a cooling swirl of cream.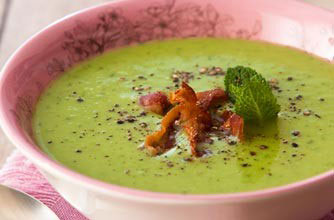 Serves 4 Prep time 15 minutes
Cooking time 20 minutes
1 1/2 tbsp of olive oil
2 shallots, finely chopped
400g peas (frozen)
1 beef stock cube
2 cups water
2 slices of Parma ham
2 tablespoons of finely-grated Parmesan cheese
1/3 cup cream
In a heavy sauce pot sauté the shallots in 1 Tbsp of oil until soft and translucent, about 2 minutes.
Add the peas to pot followed by the beef stock cube and water. Cook at a medium boil for about 10 minutes.
Meanwhile slice the Parma ham into long thin strips and brush with remaining oil. In a separate pan fry strips until crispy. Set aside to cool.
In a blender or food processor, puree the soup until consistently smooth with a granular chunkiness for hearty texture. Add pepper and salt to taste.
In a separate pan, whisk cream until barely firm and fold in parmesan cheese and pepper to taste.
Ladle soup into individual bowls and add a spoonful of cream in center. Garnish with a strip of crispy Parma Ham.