Stir-fried beef with wild mushrooms
Stir-Fried Beef with Wild Mushrooms
STIR-FRIED BEEF WITH WILD MUSHROOMS
Wine Pairing Hedonist Shiraz Mclaren, Australia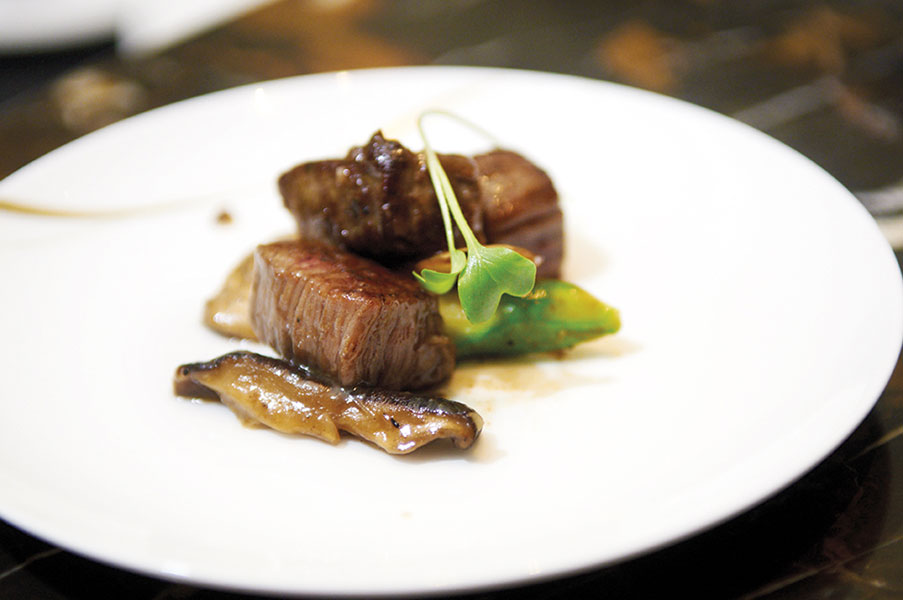 Serves 4-5
Prep time 25 minutes + 1 hour marinating time
Cook time 5 minutes
300g Australian beef fillet, cubed
dash soy sauce
2 tsp cornstarch
2 tbsp olive or vegetable oil
3 cloves garlic, sliced
1 small onion. sliced
200g Japanese wild mushrooms or an assortment of your choice
1 tbsp hua diao jiu (Chinese wine)
white pepper, to taste
1 tbsp Maggi sauce
2 tbsp sweet soy sauce
1 tbsp sugar
dash chicken stock powder
Marinate beef cubes with soy sauce and cornstarch. Set aside to chill for 1 hour.
In a dry pan without oil, fry the mushrooms for 1-2 minutes. Set aside.
Using the same pan, fry sliced garlic and onions till fragrant. Add in marinated beef cubes and sauté briefly until medium rare, about 1-2 minutes.
Add in the remaining ingredients and stir-fry for an additional half a minute till meat is just well done and sauce thickens into a sticky glaze. Add mushrooms, toss well and serve immediately.