Steamed soon hock fish with fresh chilli and sichuan pepper
Zhen says: "Also known as kai men hong (which means grand opening in Chinese), this is a speciality dish from Chengdu and its name bodes auspicious tidings, especially popular with businessmen."
Serves 4 Prep time 10 minutes
Cook time 10 minutes
700g soon hock fish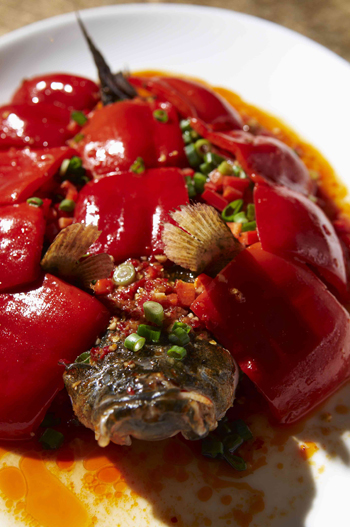 200g chilli bean paste
3g white pepper
10g salt
5g chicken stock powder
15g oyster sauce
10g plain flour
10g sugar
½ tsp sesame oil
½ tsp peppercorn oil
½ garlic clove, peeled and minced
4 red peppers, seeds removed and sliced into 3 wedges each
½ tbsp chilli bean paste
Garnish
30g leeks, diced
• Wash the surface of the fish thoroughly, pat dry and place on a plate.
• In a bowl, mix the chilli bean paste, pepper, salt, chicken stock powder, oyster sauce, plain flour, sugar, sesame oil, peppercorn oil and minced garlic together.
• Spoon the mixture (leave ½ tbsp) on top of the fish. Steam the fish for 8 minutes.
• Meanwhile, steam the red peppers coated with remaining ½ tbsp of chilli bean paste for 2 minutes.
• Arrange the red peppers around the fish.
• Garnish with leeks before serving.
Zhen says: "Also known as kai men hong (which means grand opening in Chinese), this is a speciality dish from Chengdu and its name bodes auspicious tidings, especially popular with businessmen."