Steamed pumpkin custard
Considered a Royal Thai delicacy, this calming dessert makes for a soothing end to a piquant meal.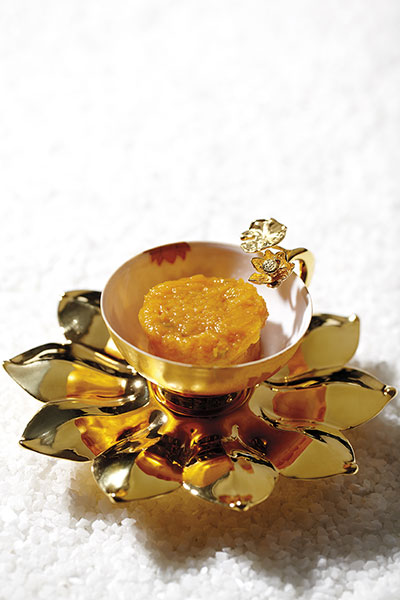 Serves 4 Prep time 10 minutes
Cook time 8 minutes
1 Kabocha squash (Japanese pumpkin), with skin and seeds removed, cut to bite-size pieces
5 eggs
3/4 cups rich coconut milk
pinch salt
pinch cinnamon
1 tsp vanilla extract
1/3 cup Thai palm sugar
Steam the pumpkin for 5-7 minutes or until totally cooked. Smash thoroughly until becomes a rough paste.
In a mixing bowl, stir the eggs, coconut milk, salt, cinnamon, vanilla extract and palm sugar together until well mixed.
Combine this coconut-egg mixture with the pumpkin.
Pour the mixture into a small mould and steam to cook for 3-4 minutes.
The pumpkin mix should be firm enough to stand on its own and not be runny.
Serve chilled from the refrigerator.