Steamed mussels in spicy tomato yuzu broth
STEAMED MUSSELS IN SPICY TOMATO YUZU BROTH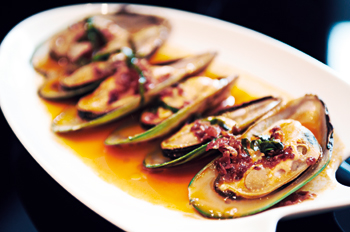 Serves 4 to 6 Prep time 15 minutes
Cook time 1 hour
spicy tomato yuzu broth
¼ cup extra virgin olive oil
1 large white onion, sliced
3 cloves garlic, smashed
1 tsp crushed red chilli flakes
400g whole peeled canned tomatoes
½ cup water
salt to taste
• Heat up ¼ cup extra virgin olive oil in a medium saucepan over high heat and add onions. Sauté for 5 to 7 minutes till soft. Add garlic and chilli flakes and cook for 2 minutes.
• Add canned tomatoes and water. Bring to a boil before reducing to a simmer for 30 minutes. Season with salt, then blend mixture before passing through a strainer. Set aside.
steamed mussels
220g pancetta or good quality bacon, sliced
6 tbsp extra virgin olive oil (for sautéing and drizzling)
2 cloves garlic, minced
1kg fresh mussels
¼ cup dry sake or white wine
1/8 cup yuzu juice (available at Meidi-Ya supermarket)
½ bunch Thai basil, chopped
• In a sauté pan, cook pancetta over low heat till crisp, about 5 to 7 minutes. Drain out excess fat.
• Heat up 3 tbsp extra virgin olive oil over in a large saucepot over medium heat and cook garlic for 2 minutes.
• Add mussels and deglaze pot with sake or white wine.
• Add tomato broth that has been set aside and cover with a lid. Once mussels have steamed opened, turn off heat.
• Add crispy pancetta, yuzu juice and basil. Portion mussels in small bowls and drizzle remaining olive oil before serving.