Steamed marble goby 'lion head' in fresh huai shan and truffle jus
Ling says "A healthier version of the classic 'Lion Head' meatballs that originated in Shanghai. You can substitute marble goby with other tender-fleshed fish like cod."
Serves 1 Prep time 30 minutes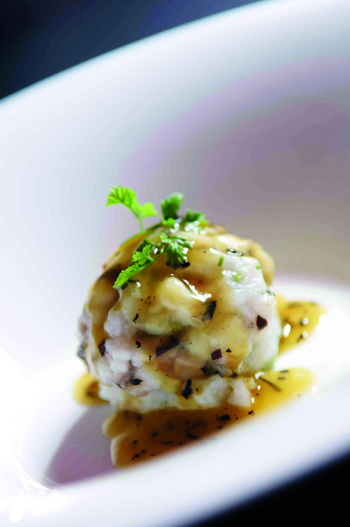 Cook time 6 to 7 hours
Marble goby lion head
70g marble goby fillet
2g fresh shiitake mushrooms, diced
2g water chestnuts, diced
Chinese parsley, diced
1 tsp sesame oil
pinch of salt
½ tsp corn flour
Chicken stock
250g chicken
150g lean pork
100g chicken feet
40g carrots
600ml water
Black truffle jus
3g butter
30ml chicken stock
3ml oyster sauce
1g black truffle, diced corn flour, to taste
Fresh huai shan puree
60g fresh huai shan
Chinese parsley root, to taste
salt, to taste
• To make marble goby lion head, dice marble goby fillet.
• Add shiitake mushrooms, water chestnuts, Chinese parsley, sesame oil, salt and corn flour to marble goby. Mix thoroughly and evenly until a paste is formed.
• Shape mixture into palm-sized round balls. In a bamboo steamer, steam for 8 minutes.
• For the chicken stock, blanch chicken, lean pork, chicken feet and carrots in boiling water for about 3 minutes.
• Strain the liquid and discard. Retain the ingredients.
• Boil chicken, lean pork and chicken feet in 600ml of water on low heat for 5 hours. After 5 hours, add carrots into this stock and boil for another 1 hour. Leave aside to cool.
• Strain carrots from stock. Blend remaining stock (with ingredients removed) in a food processor, on high speed, for about 5 seconds or until smooth.
• Return stock to boil for 30 minutes.
• Strain broth clear of impurities and set aside.
• To make black truffle jus, heat butter in a pan. Add chicken stock and oyster sauce, stir well. Then thicken with corn flour.
• Reduce heat and add black truffles to the mixture. Set aside.
• To make huai shan purée, wash and peel the fresh huai shan, and in a bamboo steamer, steam for 20 minutes on high
heat.
• Mince steamed huai shan in a food processor on high speed for 5 seconds.
• Add salt and parsley root, blend until even.
• To assemble the dish, place a dollop of huai shan purée on a plate. Lay the marble goby lion head on top of the purée. Drizzle black truffle jus over. Serve.
Ling says "A healthier version of the classic 'Lion Head' meatballs that originated in Shanghai. You can substitute marble goby with other tender-fleshed fish like cod."