Steamed fresh lobster in cherry tomatoes
STEAMED FRESH LOBSTER IN CHERRY TOMATOES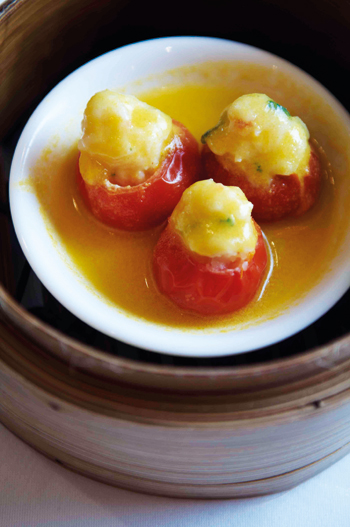 Serves 4 Prep time 20 minutes
Cook time 5 minutes
100g fresh lobster meat
4pcs cherry tomatoes
30g water chestnuts, diced finely
2 tsp Chinese parsley, chopped
seasoning (for filling)
2 tsp corn flour
1 tsp sesame oil
1 egg
½ tsp salt
½ tsp sugar
sauce
100g carrots, diced finely
4 tbsp olive oil
seasoning (for sauce)
½ tsp salt
½ tsp sugar
½ tbsp chicken stock
½ tbsp corn flour
• Roughly chop the lobster meat into small pieces.
• Slice the tops off cherry tomatoes and scoop out its contents. Set aside the shell for later use.
• To prepare the filling, combine lobster meat, water chestnuts and parsley in a bowl, then add seasoning ingredients. Mix well.
• Stuff cherry tomato shells with filling.
• Place tomatoes in a bamboo steamer and steam on high heat for 5 minutes.
• To prepare sauce, combine diced carrots, olive oil and a pinch of salt in a blender. Blend on high speed until you get a puree.
• Boil puree in a saucepan and add seasoning ingredients for sauce. Once the liquid has boiled, turn off flame and set aside.
• When steamed cherry tomatoes are ready, drizzle sauce over them and serve hot.