Steamed bamboo clams with pickled red chilli, crispy pork lard and superior soya sauce
Steamed Bamboo Clams with Pickled Red Chilli, Crispy Pork Lard and Superior Soya Sauce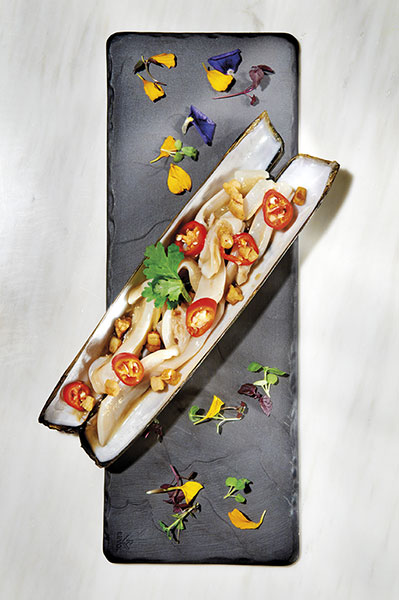 Serves 4
Prep time 1 hour 20 minutes
Cook time 15 minutes
4 large bamboo clams (140g each)
20g ginger
10g potato flour
10ml hua diao wine
few drops of sesame oil
salt and pepper, to taste
40g pork lard
20ml oil
Soak the bamboo clams in clean water for an hour. Set aside.
Separate the meat from the shell and marinate the meat with all the ingredients except pork lard and oil.
Fry pork lard in oil till golden brown, strain and reserve both the oil and lard.
pickled red chilli
50g red chilli, cut into rings
10g ginger flower, finely chopped
20ml Chinese rice wine vinegar
20g fine sugar
salt, to taste
Mix all ingredients and set aside in the refrigerator to chill for an hour.
superior soya sauce
50ml soya sauce
50ml Maggi seasoning
50ml water
30g rock sugar
1 bunch Chinese parsley roots
Mix all the ingredients and steam for an hour. Set aside.
garnish
1 leaf of Chinese parsley
bits of crispy pork lard
Lay the bamboo clam shells on a plate, and divide the marinated meat on top of each shell. Steam for them for 6 minutes. Top the steamed clams with pickled red chilli.
Heat the reserved oil and lard till 100°C, and drizzle it over the clams. Then drizzle the clams with superior soy sauce, and garnish with parsley and crispy pork lard.