Spring onion pork tortilla bread toast
It's hard to go wrong with pork fillet or tenderloin, a lean cut located between the leg and shoulder of a pig. There's very little fat, so it goes well with most cooking methods and cooks quickly. Slice the toast into bite-size pieces as party snacks or go the whole hog—pun intended—and serve it as a main.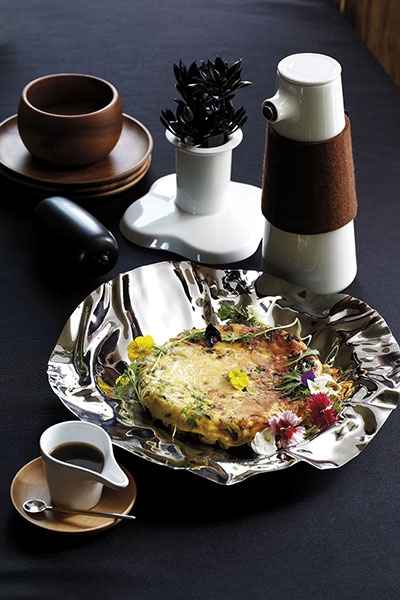 Serves 4-6
Prep time 2 hours (including marinating time)
Cook time 10 minutes
pork tenderloin marinate
100g pork tenderloin
1 tbsp extra virgin olive oil
1 egg yolk
2 tsp corn flour
pinch salt and freshly cracked black
peppercorns
tortilla
½ cup plain flour
2½ tbsp chickpea flour
2 tbsp baking powder
2 tbsp fresh flat parsley, chopped
½ tsp hot smoked paprika
½ cup water
3 tbsp spring onion bulb, lightly sweated
2 tbsp olive oil
6 slices toasted bread
garnish
5g of edible flowers, optional
• Slice the pork tenderloin fillet into 1.5cm thick slices. Smash the pork slices with a meat pounder. Then, slice the meat further into 1cm strips.
• Add the pork slices into the pork tenderloin marinade for 2 hours.
• Combine all the ingredients for the tortilla together. Set aside for 3 minutes.
• Heat a pan with olive oil, Dip the toast bread into the tortilla mixture. Fry the toast to a light brown texture for 2-5 minutes.
• Garnish and serve.