Spiced pickled pears
Spiced Pickled Pears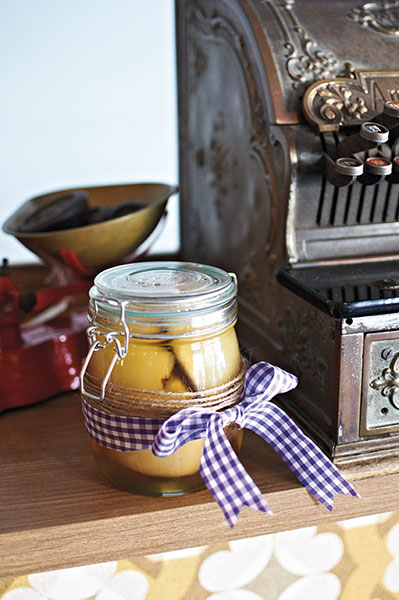 Makes: 2 jars (approximately 680g each)
Prep time: 15 minutes
Cook time: 20-30 minutes
300ml white wine vinegar
400g granulated sugar
25g ginger, peeled and bruised
1 cinnamon stick
5 cardamom pods
1kg pears, peeled and halved with core removed
1 tsp cloves
Place vinegar, sugar, ginger, cinnamon and cardamom in a pot. Place on low heat and stir until sugar dissolves. Bring mixture to a boil and then turn heat down to a gentle simmer.
Stud pear halves with cloves and add them to the pot. Simmer until tender, approximately 20 to 30 minutes. Remove pears, pack into sterilised glass jars then fill with pickling liquid, leaving 1cm of space below the rim. Seal.
Let the flavours develop for at least a month before consuming within 1 year.