Sous vide parsnip, parsnip purée wagyu beef tataki
Here's a beautiful Japanese-inspired dish to kick-start an amorous evening ahead.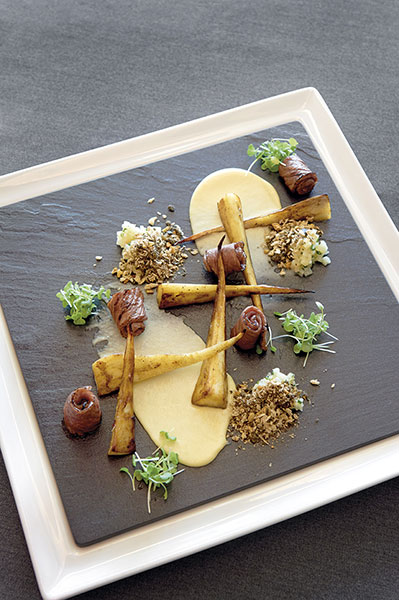 Serves 4
Prep time 45 minutes
Cook time 75 minutes
sous vide parsnip
800g parsnips, peeled
150g butter
20g thyme
20g rosemary
1 tbsp olive oil
2 tbsp unsalted butter
Cut the parsnips into long, thin strips.
Place the parsnip strips into a vacuum-sealed bag, and add butter, thyme and rosemary before sealing the bag. Sous vide the bag of ingredients at 85°C for about an hour. Then cool it down in an ice bath.
Remove parsnip strips from bag and pan sear in olive oil them till they brown slightly. Add butter and cook the parsnips till butter turns beurre noisette.
Place the parsnips on a kitchen towel to absorb some of the oil.
parsnip purée
600g parsnips, peeled
150g potatoes, peeled
150g onions, sliced
700g cream
100g butter
salt and pepper, to taste
Slice the parsnips and potatoes into small pieces.
Sauté the onions in a pan in low heat till they turn soft.
Add parsnips, potatoes and cream into the pan and simmer till they are cooked.
Blend everything in a blender and slowly add butter to get a smooth texture. Season with salt and pepper.
wagyu beef tataki
50ml shoyu
20ml sherry vinegar
sugar, to taste
300g wagyu, primary cut
salt and pepper, to taste
Add shoyu, sherry vinegar and sugar together to make a vinaigrette.
Slice the wagyu beef into thin slices and season them with the vinaigrette and salt and pepper.
With a small cooking blowtorch, cook the meat to your preferred doneness.
Plate the sous vide parsnip, parsnip purée and beef tataki, and serve.