Shark's fin melon in mushroom consommé
This gourd gets its moniker from the way its flesh disintegrates into shark's fin-like threads when cooked. For silky strands that look like just the real thing, steam the melon until soft then pull the fibres apart with your hands.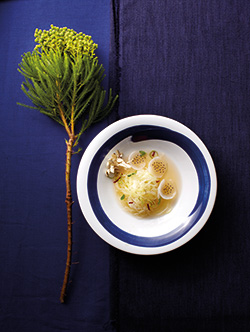 Serves 2 Prep time 15 minutes
Cook time 1 hour
1 shark's fin melon, approximately 350g, seeds removed, peeled
2 tbsp olive oil salt and pepper to taste
5 tbsp white wine
Mushroom Consommé
1 white onion, halved
650g mixed forest mushrooms
150g white cabbage
1 cup sweet white wine
5 cups water
pinch salt and sugar
Garnish
1 white turnip, thinly shaved and lightly blanched to soften
3 tbsp basil seeds, soaked in water
80g maitake mushrooms, lightly seasoned with flaky salt and pepper and roasted
Steam the shark's fin melon in a steamer until it is soft enough to pierce with a fork, about 12-15 minutes. Remove from heat and let cool. When the melon is cool enough to handle, pull its fibres apart, its strands should peel off thinly.
To make the mushroom consommé, combine all the ingredients together in a large stock pot and bring to a boil. Reduce heat to low and let simmer for 45-50 minutes.
Heat up a non-stick pan with olive oil and sauté the melon strands with a pinch of salt and pepper. Deglaze with white wine.
Divide the melon strands between 2 bowls and top with mushroom consommé. Float 2 slices of thinly shaved turnip on top of each bowl. Fill each turnip with basil seeds and garnish with roasted maitake mushrooms.
Excerpt from the October 2013 issue of epicure.