Shakshuka–eggs braised in spiced tomato sauce with haloumi cheese
SHASHOUKA–EGGS BRAISED IN SPICED TOMATO SAUCE WITH HALOUMI CHEESE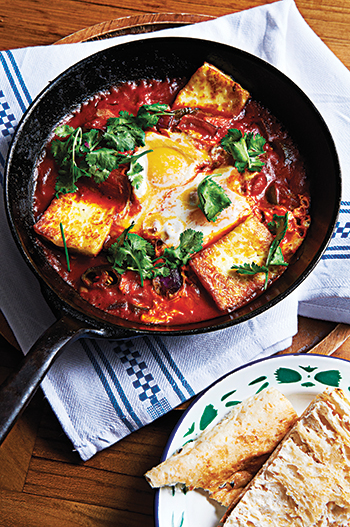 Serves 4 Prep time 10 minutes
Cook time 30 minutes
Advertisement
spiced tomato sauce
800g canned Roma tomatoes
65ml olive oil
3 tsp sweet paprika
1 tsp ground cumin
1 tsp ground coriander
1 medium onion, diced
1 large green chilli, julienned
1 green capsicum, julienned
3 cloves garlic, minced
1 tbsp tomato paste
salt and pepper to taste
4 large eggs
180g haloumi, soaked and sliced into 1-2cm thick pieces
small handful fresh coriander, roughly torn
pita bread, toasted
• To make spiced tomato sauce, chop tomatoes into medium sized pieces.
• In a heavy based saucepan, pour in olive oil and heat briefly.
• Add in spices and toast over medium heat till fragrant. Quickly add in onions, chilli and capsicum. Sprinkle a little salt and sweat for 7–10 minutes till translucent.
• Stir in the garlic and tomato paste, followed by the tomatoes 1 minute later.
• Simmer for 10 minutes till vegetables are fairly soft. Season to taste with salt and pepper. Set aside.
• When ready to serve, heat up a large skillet. Add in spiced tomato sauce and bring to a simmer.
• Make small wells in the tomato sauce and crack the eggs into each well. Lower heat, cover and simmer gently for 3–4 minutes to get firm whites and runny yolks. Remove from heat while eggs are still slightly wobbly.
• Meanwhile, fry haloumi on a separate non-stick pan over medium heat for 1 minute on each side.
• Nestle the pieces of browned cheese in and among the eggs in the hot tomato sauce.
• Scatter fresh coriander and serve the entire skillet at the table with warm pita bread.