Seafood treasure broth
Turn your annual Chinese New Year tradition into a luxe affair by making your broths, dips and meatballs from scratch with the best possible ingredients.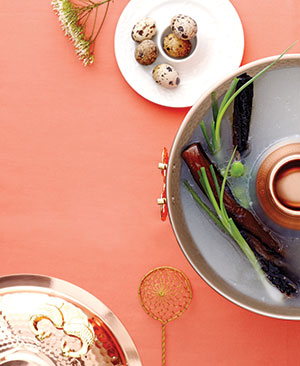 Dried pieces of sole fish turn this stock into a wonderfully savoury soup base that is best suited for poaching scallops, clams, prawns and abalone.
Serves 8 Prep time 15 minutes
Cook time 1 hour
3kg fish bones
2 fresh leeks, quartered
120g celery leaves
2 dried bay leaves
1 tbsp apple cider vinegar
55g rock sugar
4 litres boiling water
3 yellow onions, peeled and halved
2 slices ginger
2 pieces ti poh (dried sole fish)
Bring a large pot of salted water to a boil. Blanch fish bones for 3 minutes.
Drain fish bones and transfer to a large stockpot with remaining ingredients. Bring to a boil, then simmer for 45 minutes to 1 hour on low heat.
Let cool for 1 hour, then strain stock over a fine sieve and transfer to a steamboat as your soup base.
Excerpt from the February 2015 issue of epicure.