Scallops with chilli pepper oil
This seafood dish is fragrant with chilli pepper oil, which adds an intense spicy kick to scallops and scampi marinated with lemon juice and white wine.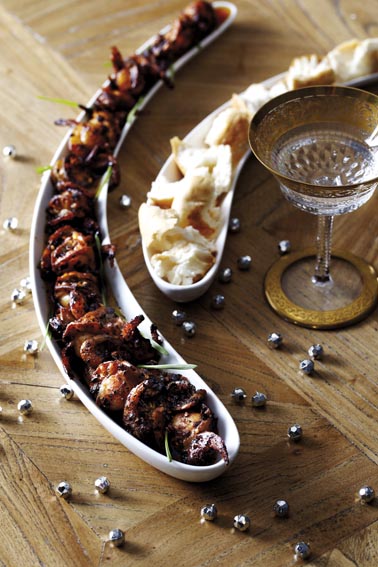 Serves 4
Prep time 40 minutes
Cook Time 15 minutes
300g bay scallops
200g tiger prawns
2 tbsp parsley, roughly chopped
2 tbsp freshly squeezed lemon juice
¼ cup dry white wine
pinch sea salt
pinch freshly cracked black pepper
chilli pepper oil
4 tbsp olive oil
5 garlic cloves, sliced thinly
1 red onion, sliced thinly
4 pimento peppers, chopped finely
1 tbsp dry hot pepper chilli, blended to rough bits
4 tsp rock salt
2 tsp fine sugar
Place the scallops ands prawns into a big bowl and marinate with parsley, lemon juice, dry white wine, salt and freshly cracked black pepper.
Heat up a non-stick pan with oil and fry the garlic and onions till fragrant.
Add in the pimento peppers, chilli, salt and sugar and continue frying.
Set the chilli pepper oil aside to cool. When cooled, pour over the marinated scallops and prawns .
Heat up another grill pan to red hot and add the marinated chilli oil scallops and prawns. Cover with a lid.
Lightly fry the scallops and prawns for 3 to 5 minutes or until cooked.
Serve hot or warm with some toast.
The best charred peppers are ones cooked over charcoals but you can achieve the same effect by burning them over a gas flame or dry roasting them in a hot oven. Letting them cool under a clingflim seal makes the skins easier to peel away.
Excerpt from the December 2012 issue of epicure.