Scallops and ikura with kaffir lime leaf-infused coconut soup
For a soup fit for a royal treat, look no further than this flavourful concoction.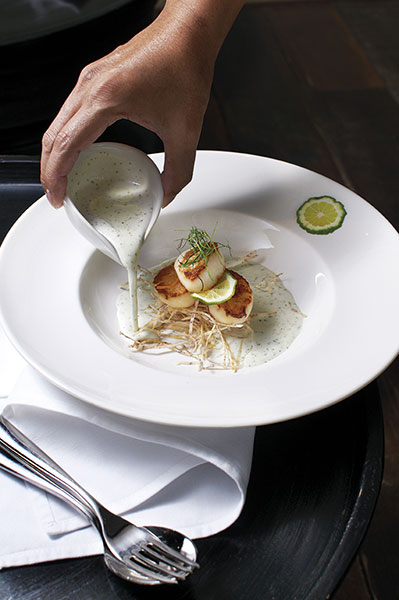 Serves 1
Prep time 30 minutes
Cook time 30 minutes
20g kaffir lime leaves, finely chopped
150ml coconut milk
3 large scallops (about 120g each)
sea salt, to taste
2 tbsp grapeseed oil
20g ikura or salmon roe
Add kaffir lime leaves into coconut milk. On low heat, simmer the milk till it reduces to a thick soup-like consistency. Strain the milk to remove the traces of kaffir lime leaves. Set aside.
Season the scallops with sea salt. In a non-stick pan, add grapeseed oil and, on high heat, sear the scallops on each side until slightly golden brown. Do not overcook them.
Assemble the scallops in a 'pyramid' shape in a soup bowl. Slowly pour the coconut milk around the molluscs, and not over them. Add the ikura into the milk and serve.