Savoury turmeric onion buns
The warmth of the Indian cooking spice and caramelised onions in crusty buns make for the perfect breakfast bite. Another reason to consume turmeric? It is both a powerful antioxidant and potent anti-inflammatory.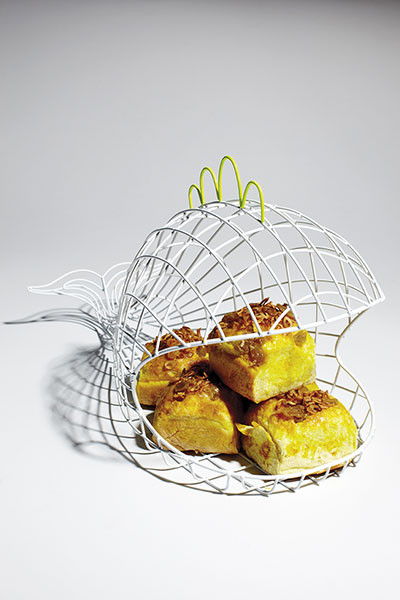 Makes 14 -16 buns
Prep time 2 hours 30 minutes
Cook time 1 hour 30 minutes
turmeric onion paste
4 tbsp olive oil
2 cup white onions, diced
1 cup red onions, diced
4 tsp rock salt
4 ½ tbsp turmeric powder, toasted
Heat up a nonstick pan with olive oil, fry the white and red onions until fragrant or soften for about 20 min over low heat. Let it cool down before using. Use half for the dough and the other half as topping.
wet dough paste
3 tbsp good quality bread flour
½ cup + 1tsp water
Combine bread flour and water in a small pot and cook the mixture over low heat. Keep stirring until it reaches 60°C to 65°C. You should see a thick paste forming. The method is similar to how choux pastry is done.
Cover the paste with a cling film and allow it to cool until room temperature before using.
mother dough
2 ¾ cups + 1 ¼ tbsp good quality bread flour
¾ cup all-purpose flour
5 ¾ tbsp full cream milk powder
5 ¾ tbsp fine castor sugar
¾ tsp salt
11 g or 1 sachet instant dry yeast
1 egg, lightly beaten
110 ml lukewarm water, adjust as necessary
2 ⅔ tbsp unsalted butter, cubed
garnish
80g yellow raisins
Combine bread flour, plain flour, milk powder, fine castor sugar and salt in an electric mixer to blend using a dough hook.
Then, add instant dry yeast and keep mixing well. Add in the lightly beaten egg and gradually add just enough lukewarm water (adjust if necessary) until you get a slightly sticky and soft mixture.
Keep mixing for about 5min until you get a dough that is smooth and doesn't stick to sides of the bowl.
Take the dough out of the electric mixer and knead with your hands. Add in the turmeric onion paste and wet dough paste. Continue kneading for another 2 to 3 min.
Knead the cubes of butter until well-incorporated, or until it is sticky.
Form the mother dough into a round ball and let it proof until double in size in a large greased clean bowl, cover with cling film for about an hour on The dough is ready when you poke a finger into the center and the hole remains.
Punch down the dough again, knead briefly and form into a ball shape again
Then, divide into 14 to 16 equal portions and allow them to rest for 10 minutes. Cover with cling film, and let rise until double in size. Top the raisins and the rest of the onion paste onto the bun.
Bake in preheated 190°C oven for about 12 to 15 minutes or until golden brown.