Sauteed bamboo clams with minced garlic, mushroom in soya sauce and hua diao wine
Sauteed Bamboo Clams with Minced Garlic, Mushroom in Soya and Hua Diao Wine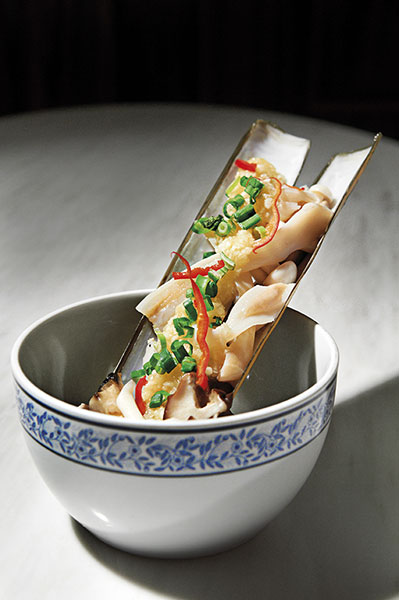 Serves 4
Prep time 1 hour 20 minutes
Cook time 15 minutes
4 large bamboo clams (140g each)
30ml oil
6 garlic cloves, finely chopped
30g honshimeji mushrooms, roots removed
50g button mushrooms, quartered
30g brown mushrooms, quartered
50ml water
100ml soya sauce
a few dashes of Maggi seasoning
100ml hua diao wine
salt and pepper, to taste
garnish
spring onions, chopped
Soak bamboo clams in clean water for an hour. Separate the meat from the shells and set aside the shells.
Heat the oil in a pan, add garlic, mushrooms and clams and sauté till fragrant. Divide the sautéed clams equally between the shells.
Mix the water, soya sauce, Maggi seasoning, hua diao wine, and season with salt and pepper. Drizzle with the mixture over the sautéed clams and garnish with spring onions.