Saltwater tiger prawns with yuzu dressing
You want to cook something that a large group will enjoy, but that doesn't mean you have to play it safe with crudités and dip. Big, bold and bang-on in flavour, these recipes (which feed eight to 10) will have guests remembering your dishes long after the party is over.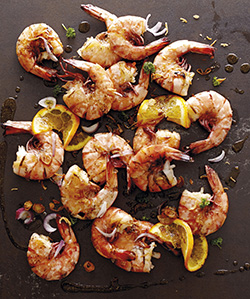 yuzu dressing
½ cup red shallots, diced
3 cloves garlic, peeled and smashed
4 tbsp Lee Kum Kee lemon sauce
3 tbsp extra virgin olive oil
3 tbsp rice wine
1 tsp sea salt
1 tbsp superfine sugar
1 sprig thyme, leaves picked and finely chopped
1 dried Szechuan chilli, lightly crushed
½ cup yuzu juice
Mix all the ingredients in a large bowl and whisk until well incorporated.
saltwater tiger prawns
25g rock sugar
1 tbsp sea salt
1 strip orange peel
1kg saltwater tiger prawns, shells-on, deveined with heads removed
2 tbsp vegetable oil
1 green lime, thinly sliced
1 lemon, thinly sliced
Heat a large pot of water with rock sugar, sea salt and orange peel. Bring to a boil.
Add the prawns and blanch until slightly pink, about 1-2 minutes. Drain.
Toss the prawns with the yuzu dressing and marinate for 10 minutes. Drain the prawns and reserve the yuzu dressing.
In a wok heated to red-hot, fry the prawns in vegetable oil until fully cooked. Pour the reserved yuzu dressing over and stir-fry until the sauce has thickened into a shiny glaze, about 1-2 minutes.
Dish the prawns onto a serving plate and garnish with thin slices of green lime and lemon.
Excerpt from the March 2014 issue of epicure.