Salt-baked flower crab in lotus leaf
Before crabs came doused in chilli and salted egg yolk sauces, they were simply encased in salt and baked. The hard outer crust traps the crab's natural juices within, while the lotus leaf adds an unbeatable fragrance – a tried-and-true Teochew classic.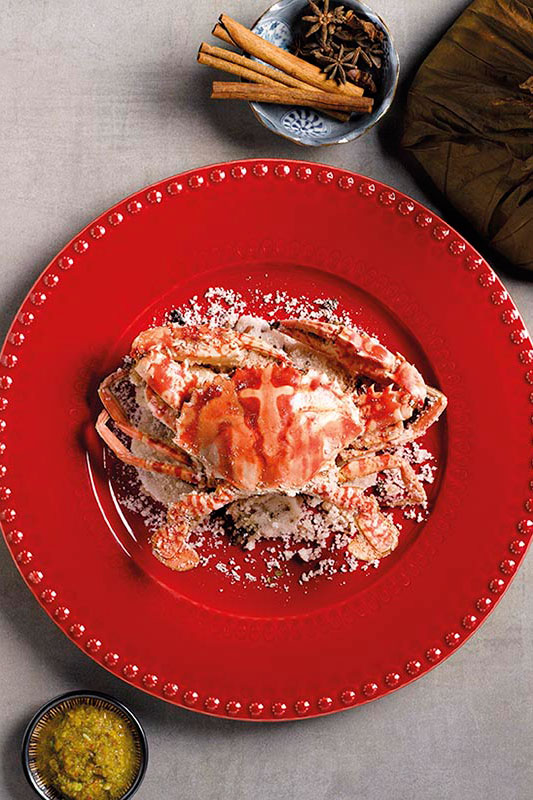 Serves 2-4
Prep time 30 minutes + 30 minutes marinating time
Cook time 35-45 minutes
homemade chilli sauce
1 fresh green chilli
1 fresh red chilli
30g garlic, peeled
2 tsp ginger, peeled and minced
juice of 4 calamansi, seeds removed
15g coriander leaves
Add all ingredients to a blender or food processor and blend into a fine paste.
salt-baked flower crabs
2 live flower crabs (approximately 300-400g each)
1 bottle hua diao jiu (Chinese yellow wine)
5 cinnamon sticks
15 cloves
10 star anise
5 cardamom pods
10g coriander seeds
2kg coarse sea salt
ó cup water
2 dried lotus leaves (soaked in warm water till softened, then dried)
2 pieces parchment paper
Place crabs in a large container and pour wine over to cover. Leave for 30 minutes.
Coarsely crush cinnamon sticks, cloves, star anise, cardamom and coriander seeds with a pestle and mortar. Mix resulting spice powder with coarse sea salt and water to make a paste.
Unwrap lotus leaves, then place a sheet of parchment measuring approximately 15cm by 15cm in the middle of each leaf. Place some of the salt mixture in the middle of the parchment paper. Put crab on top of the salt and cover entirely with remaining salt mixture (crab must be fully covered).
Bring the ends of each lotus leaf to the centre and secure with butcher's string so it looks like a money bag.
Preheat oven to 180°C and bake crab for 35-45 minutes. Open leaves and let cool before cracking open. Serve with homemade chilli sauce.