Roti jala with chicken curry
These lace pancakes were traditionally made with brass moulds, which have become increasingly difficult to find. Plastic crepe funnels do the job equally well, and are available at Sia Huat and www.bakingfrenzy.com. It is essential to ensure the batter is lump-free so it flows smoothly from the dripping spouts.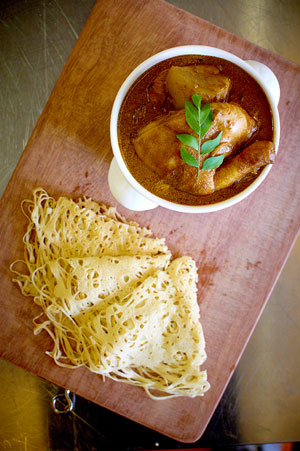 Serves 4
Prep time 30 minutes
Cook time 1 hour 15 minutes
roti jala (lace pancakes)
200g plain flour
2 eggs, lightly beaten
2 tsp corn oil
½ tsp salt
1 tsp turmeric powder
200ml water
200ml coconut milk
Combine all the ingredients in a large mixing bowl and whisk until the batter us smooth. Strain through a sieve to remove any lumps.
Hold a roti jala mould over a non-stick pan on low heat and fill halfway with batter. Swirl the mould around the pan to make a lacy pancake. When the batter is set, flip it over and cook for an additional 30 seconds. Remove pancake from the pan and fold into triangles or roll them up with their edges tucked in. Keep warm.
chicken curry
rempah (spice paste)
200g shallots
30g garlic
90g lemon grass
80g galangal
40g ginger
40g belachan or shrimp paste
50g buah keras or candlenuts
pinch turmeric powder
curry gravy
120ml cooking oil
50g tomato paste
80g chilli paste
50g curry powder
500ml coconut milk
5 kaffir lime leaves
10g curry leaves
3 whole chicken legs, chopped
3 potatoes, cut into 3cm cubes
500ml water
1½ tsp salt
To make the rempah, blend shallots in a high speed food processor, followed by the lemongrass, galangal and ginger. Blend into a fine paste.
Add in belachan and buah keras, and blend into a fine paste. Stir in the turmeric powder and measure 150g for use later. (The remainder can be stored in the freezer for up to 6 months and used when required.)
To prepare the curry, heat the cooking oil and fry the reserved rempah, tomato and chilli paste for 5 minutes. Add in the curry powder and cook until fragrant. Pour in coconut milk and evaporated milk.
Add kaffir lime leaves, curry leaves, chicken and potatoes. Finally, pour in the water and bring to a boil. Let simmer until potatoes are tender and chicken is cooked through, about 20 minutes.
Serve with roti jala.