Roasted skate wing and yuzu-plum glaze
Roasted Skate Wing and Yuzu-Plum Glaze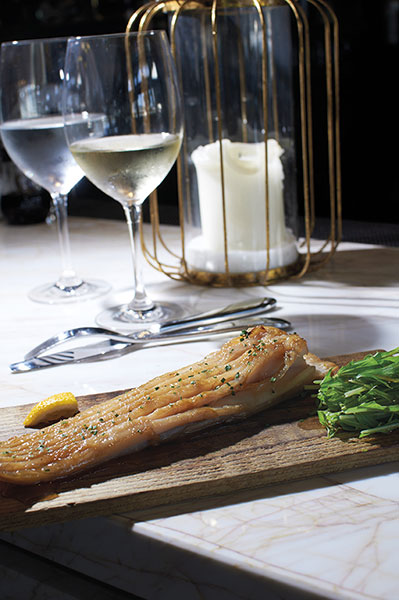 Serves 2
Prep time 30 minutes
Cook time 20 minutes
yuzu-plum glaze
6 umeboshi or Japanese pickled plums
60ml yuzu juice (unsalted)
600ml Japanese shoyu
600ml mirin
600ml sake
80g ginger
1 garlic clove
1 onion, diced
1 carrot, diced
250g castor sugar
10cm kombu or kelp
25g daikon
Combine all the ingredients in a medium sauce pan and bring to a boil. Lower heat to a simmer, and reduce the mixture to a consistency of a sauce.
Remove pan from heat, cover it partially and let it cool to room temperature. Strain and refrigerate.
yuzu-plum glaze dressing
1 part yuzu-plum glaze
1 part rice bran oil
1 part rice vinegar
1 tbsp chives, minced
freshly ground black pepper, to taste
Whisk all the ingredients together.
65ml yuzu-plum glaze
15ml sake
2 skate wings (250g each)
20ml yuzu-plum glaze dressing
60g mizuna greens
20g spring onions, sliced
1tsp kurogoma or black sesame
Combine 15ml of yuzu-plum glaze and sake, and wet both sides of the skate wings with the mixture.
Place the skate wings on baking paper, and roast them in the oven at 160°C for 10 minutes or until the meat pulls away from the cartilage. Glaze with the remaining 50ml of yuzu-plum glaze each time you check on the skate.
Remove the roasted skate wings from the oven. Drizzle the yuzu-plum glaze dressing over the mizuna greens. Serve the skate wings with mizuna greens, spring onions and black sesame.