Roasted purple potato mash with ginger infused crabmeat and prawns
Why should colour blocking be restricted only to fashion? Try contrasting potato mash with prawns for a standout clash.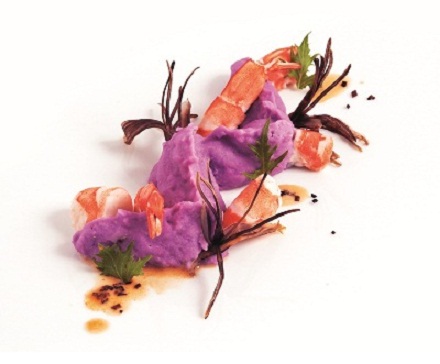 purple potato mash
150g purple potatoes, peeled and cut to bite-size
100g russet potatoes, peeled and cut to bite-size
1 litre water
pinch salt
120g unsalted butter
½ cup double cream
banana blossoms
20g banana blossoms
pinch salt and pepper
1 tbsp olive oil
ginger butter sauce
100g purple onions, chopped
2 tbsp minced ginger
½ cup white wine
½ cup double cream
120g unsalted butter, cut to cubes
garnish
100g tiger prawns, shelled
and blanched
50g crabmeat, blanched
• For the purple potato mash, combine all purple potato ingredients, except
the butter and cream.
• Cook potatoes until softened. Drain off excess water and mash the potatoes while they are hot.
• Add in butter and cream, and mix. Season to taste.
• For the banana blossoms, lightly season with salt, pepper and olive oil.
• Wrap in aluminium and bake in an 155˚C oven for 15 to 20 minutes. Set aside.
• For the ginger butter sauce: heat up a non-stick pan with oil and lightly fry
the chopped purple onions and ginger until fragrant.
• Deglaze the pan with white wine and let it simmer until almost dry. Add in cream and unsalted butter to the sauce.
• Add in crabmeat and prawns to slow cook in the sauce.
• Serve together with the mash and banana blossoms.