Roasted chicken stuffed with couscous, apricots and dates
Couscous is to Moroccans what rice is to Asians. Use this versatile ingredient as a stuffing for a unique twist to your roast chicken.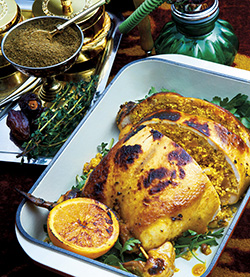 Serves 6 Prep time 30 minutes
Cook time 90 minutes
couscous stuffing
250g couscous
½ tsp salt
225ml warm water
2 tsp olive oil
1 tbsp ground cumin
1 tbsp honey
2 tbsp golden raisins
125g ready-to-eat dried apricots, thickly sliced
125g ready-to-eat dates, thickly sliced or chopped
2-3 tbsp almonds, blanched and roasted
2 garlic cloves, smashed
2 tsp dried oregano or thyme
1-2 tsp paprika
2 tbsp butter, softened
1 large organic chicken, about 1½kg
juice of 1 orange
150ml chicken stock
Preheat the oven to 180°C.
To make the stuffing, tip couscous into a large bowl.
Stir salt into warm water and pour it over couscous. Stir all the time so that the water is absorbed evenly.
Leave the couscous to swell for about 10 minutes.
Using your fingers, rub the olive oil into the couscous to break up lumps and aerate it.
Stir in the other stuffing ingredients and set aside.
Place smashed garlic, oregano and paprika into softened butter, then smear it all over the chicken inside and out.
Stuff the chicken with couscous stuffing. Squeeze orange juice over the chicken.
Pour stock into the base of the tagine and roast the chicken in the oven for about 1 hour, until it is cooked.
Remove the chicken from the oven and allow it to rest for 10 minutes before carving.
Strain the cooking juices into a jug and heat up any remaining couscous as described above.
Serve this with the chicken. Pour the jug of cooking juices over a green salad.