Roasted black angus beef with truffle mash and shallot glaze
This roast is a crowdpleasing stalwart that also adds an aphrodisiacal touch.
Serves 4 Prep time 25 minutes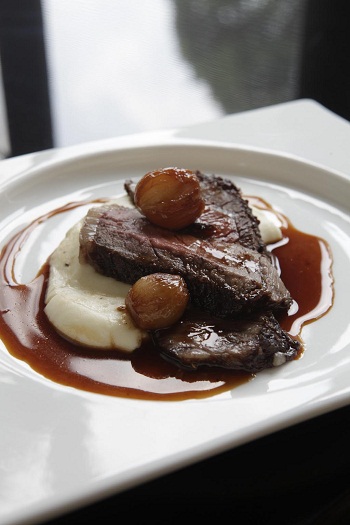 Cook time 30 minutes
800g Black Angus rib eye (1 piece)
Fresh cracked black pepper
Olive oil
Butter
Sea salt
5 Russet potatoes, peeled
150ml milk or cream
Salt
50g butter
Nutmeg
White pepper
1 tbsp truffle oil
80g shallots, peeled
1tsp butter
50ml port
50ml red wine
1 bay leaf
200ml veal jus
Season beef with pepper only and sear well on all sides in a little olive oil and little butter.
Season with sea salt and roast in oven at 200˚C for approximately, 15-18 minutes for medium rare to medium.
Let the beef rest for 3-4 minutes before carving it.
Potatoes
Boil them till very soft.
Strain and mash while still very hot.
Boil milk or cream and add to potatoes.
Add all other ingredients and whisk with a whisk until smooth and creamy.
Sauté shallots in butter till slightly caramelised.
Deglaze with port, red wine and bay leaf.
Reduce by half. Then add veal jus.
Reduce slowly till the consistency is right and shallots are soft.