Roast duck curry with lychee, green mint and basil
With the flavourful combination of tender duck meat and fruity lychees, it is no wonder this fragrant red curry is a perennial classic.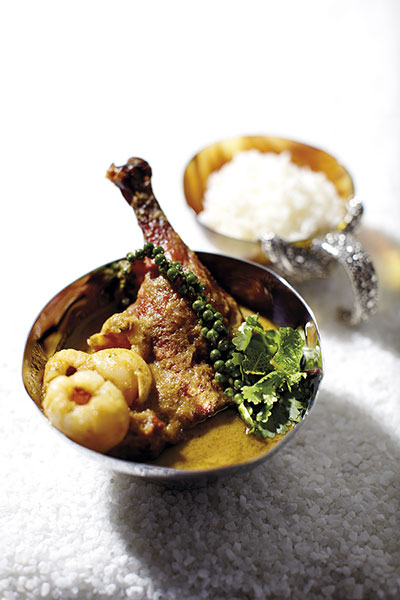 Serves 4
Cook time 30 minutes
Prep time 10 minutes
2 1/3 cups coconut cream, with 2 tablespoons (30ml) reserved for garnish
100g red curry paste
5 tbsp Thai fish sauce
2 tbsp Thai palm sugar
500g roast duck, thinly sliced
1 tin canned lychees, whole, with liquid strained
10 cherry tomatoes, ripened
15 sweet basil leaves, reserve 5 for the last step
5 kaffir lime leaves, smashed and torn into pieces
3 cups thick coconut milk
• Pour the coconut cream into a wok and simmer for 2 minutes at low heat. Stir continuously, until the coconut oil begins to separate.
• Add the curry paste, fish sauce, and palm sugar. Lightly fry the paste for 3-5 minutes. Simmer for an additional 2 minutes.
• Add the duck and lychees and simmer to a light boil.
• Add the cherry tomatoes and 10 sweet basil leaves. Simmer for 5 minutes.
• Turn off the heat and stir in the kaffir lime leaves, coconut milk and remaining sweet basil leaves.
• Season to taste.