Roast celeriac soup with scallop
Fill up your tummy with this hearty and creamy broth. It's easy to execute and oh-so-satisfying.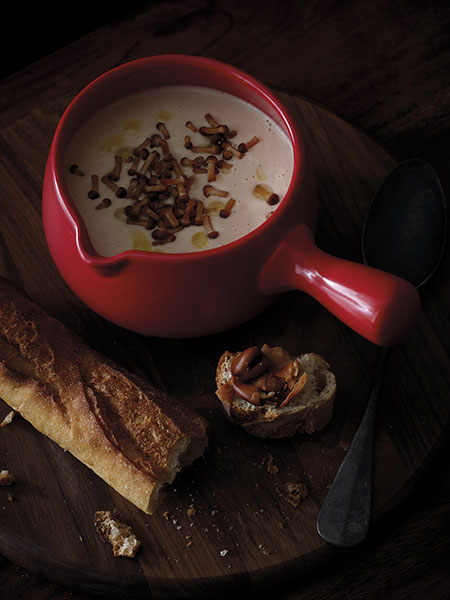 Serves 2 Prep time 5 minutes
Cook time 25 minutes
1 tbsp olive oil
40g white onions, sliced
10g garlic, minced
300g celeriac (clean, peel and cut to bite size)
10g fine sugar
pinch salt and pepper
4 tbsp white wine
8 cups chicken stock
garnish
1 cup double cream
10g chopped chives
6 seared scallops
Heat up a non-stick pan with oil, fry the white onions and garlic till fragrant. Add in the rest of the ingredients except the wine and chicken stock and fry for 2 to 3 minutes.
Then, deglaze with the white wine and add in the chicken stock. Finally, simmer the soup for 10 to 15 min or until the celeriac is softened and almost dry.
Puree the soup and do add in some chicken stock to make it smoother.
Garnish and serve.