Rhubarb strawberry jam
What better way to indulge in a batch of just-out-the-oven scones than with cold, clotted cream and a generous dollop of this blush pink jam?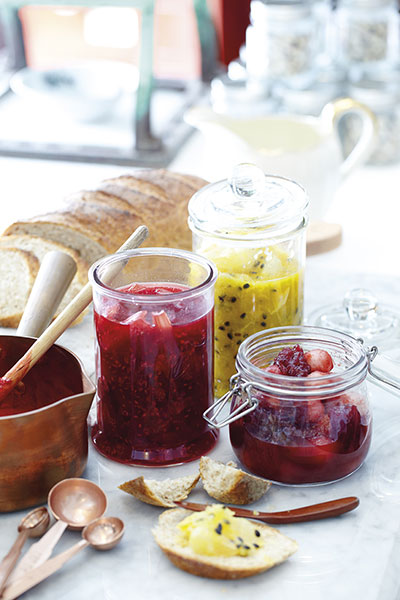 Serves 6
Prep time 2 hours
Cook time 25 minutes
5 cups rhubarb, peeled and cut into bite-size pieces
5 cups white sugar
¼ cup fresh lemon juice
1 cup moscato
4 cups fresh strawberries, halved
Combine the rhubarb and sugar in a large mixing bowl, leave to marinate for 2 hours.
Add in lemon juice, moscato and strawberries before transferring the mixture into a cast iron pot.
Bring the mixture to a boil, stirring continuously to dissolve the sugar.
Simmer at medium-heat for 5 minutes before turning heat up to high and cooking jam until thickened, stirring continuously to prevent burning.
Periodically insert a candy thermometer into the middle of the jam (ensuring not to touch the pot). Once the temperature is between 105°C to 110°C, take it off the heat and skim off any foam on the top before bottling and setting aside to cool.