Rhubarb and blood orange tart tartin, vanilla ice cream and pistachio crumble
Apart from using rhubarb in desserts, these reddish, celery-like plants can be turned into purees and jams to pair with fatty meat.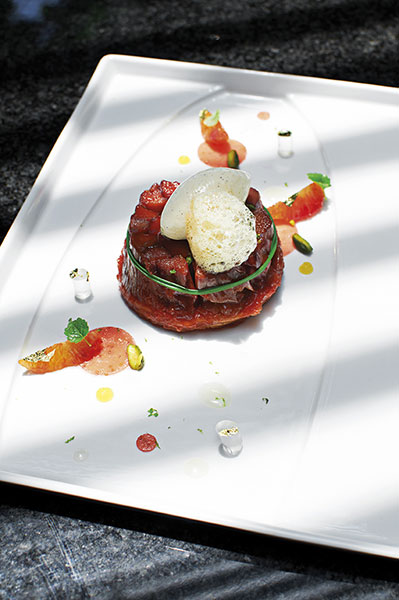 Serves 2
Prep time 15 minutes
Cook time 50 minutes
pistachio crumble
100g pistachios, grinded
100g flour
50g butter
Knead the flour, pistachios and butter into a dough. Bake at 140°C for 30 minutes. Remove and break it into small pieces.
tart tartin
250g sugar
1 stalk rhubarb, cut into 6 pieces, each 4cm long
120g brown sugar
pinch ground cinnamon
30ml kirsch
1 puff pastry (readymade, available from supermarkets)
1 scoop vanilla ice cream
garnish
pistachio crumble
blood orange pulp
lime zest
Cook and caramelise the sugar. Spread it into a round mould.
Lay the rhubarb in the mould, and sprinkle brown sugar and cinnamon on top. Add kirsch and cover it with puff pastry.
Preheat the oven to 220°C, and bake the tart for 15 minutes. Remove and add vanilla ice cream. Garnish with pistachio crumble, blood orange pulp and lime zest.