Red wine chocolate spread
When pairing wine with dark chocolate (65% cocoa content in this case), choose a full-bodied vino like Shiraz or a Merlot-Cabernet blend for a softer, rounder mouthfeel.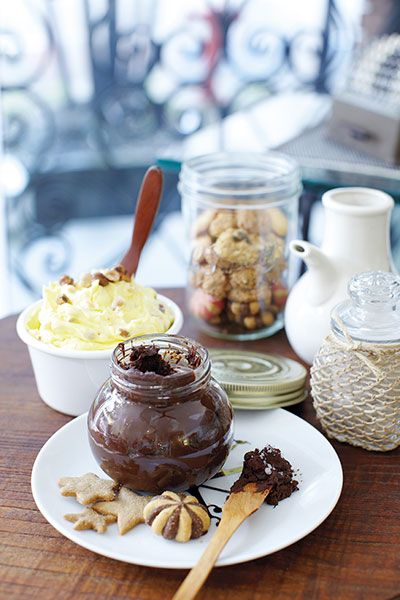 Serves 4-6
Prep time 5 minutes
Cook time 45 minutes
1 cup red wine
165g unsalted butter, softened
3 eggs
1 cup sugar (about 180 to 200g)
1 tsp vanilla extract
4 tbsp Valrhona cocoa powder, (at least 65% cocoa content)
• Bring the red wine to a boil to burn off the alcohol. Keep boiling until reduced to 1/3 the volume of the original liquid, then set aside to cool.
• Cut butter into small pieces and place in blender.
• Add the eggs, sugar, vanilla extract, and reduced red wine, then blend the mixture well.
• Add the cocoa powder and blend well again.
• Pour the mixture into a glass container and refrigerate for up to 2 months.