Red pepper and courgette mousse with sweet pepper sauce
RED PEPPER AND COURGETTE MOUSSE WITH SWEET PEPPER SAUCE
Serves 4-6 Prep time 25 minutes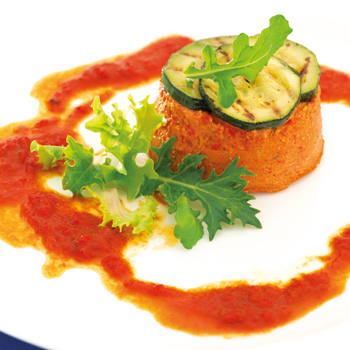 Cook time 50 minutes
50g butter
4 red peppers, deseeded and chopped
4 eggs, beaten
1 tbsp chopped parsley
3 tbsp vegetarian Parmesan cheese, grated
50ml soya single cream
salt and pepper
1 large courgette, thinly sliced
1 tsp balsamic vinegar
4 tbsp water
1 tsp caster sugar
garnish
rocket and mixed salad leaves
• Preheat the oven to 190°C. Lightly grease 4-6 ramekin dishes.
• Melt half the butter in a frying pan and fry the peppers for 10 minutes until softened, purée in a blender, spoon 6 tablespoons of the peppers out of the blender and put into a small saucepan.
• Add the eggs, parsley, cheese, soya cream and seasoning to the blender and mix well.
• Heat the remaining butter in a pan and lightly fry the courgette slices until golden brown, drain on kitchen paper, arrange the slices in the ramekin dishes, and spoon over the egg mixture.
• Put the ramekins into a roasting tin, pour in sufficient boiling water to fill half the tin. Bake for 30 minutes until firm to the touch, remove from the tin. Meanwhile, make the sauce: add the balsamic vinegar to the reserved peppers, add 4 tablespoons of water and the caster sugar, season well, heat over a gentle heat for 3 minutes, stirring, then cool.
• To serve, run a knife around the sides of the ramekin dishes and turn upside down onto serving plates. Drizzle with the sweet pepper sauce. Garnish with rocket and salad leaves and serve.