Red hot chilli dumplings with bamboo shoots
Even though the dumplings are literally red hot and fiery to the bite, it's hard to stop at one.
Even though the dumplings are literally red hot and fiery to the bite, it's hard to stop at one.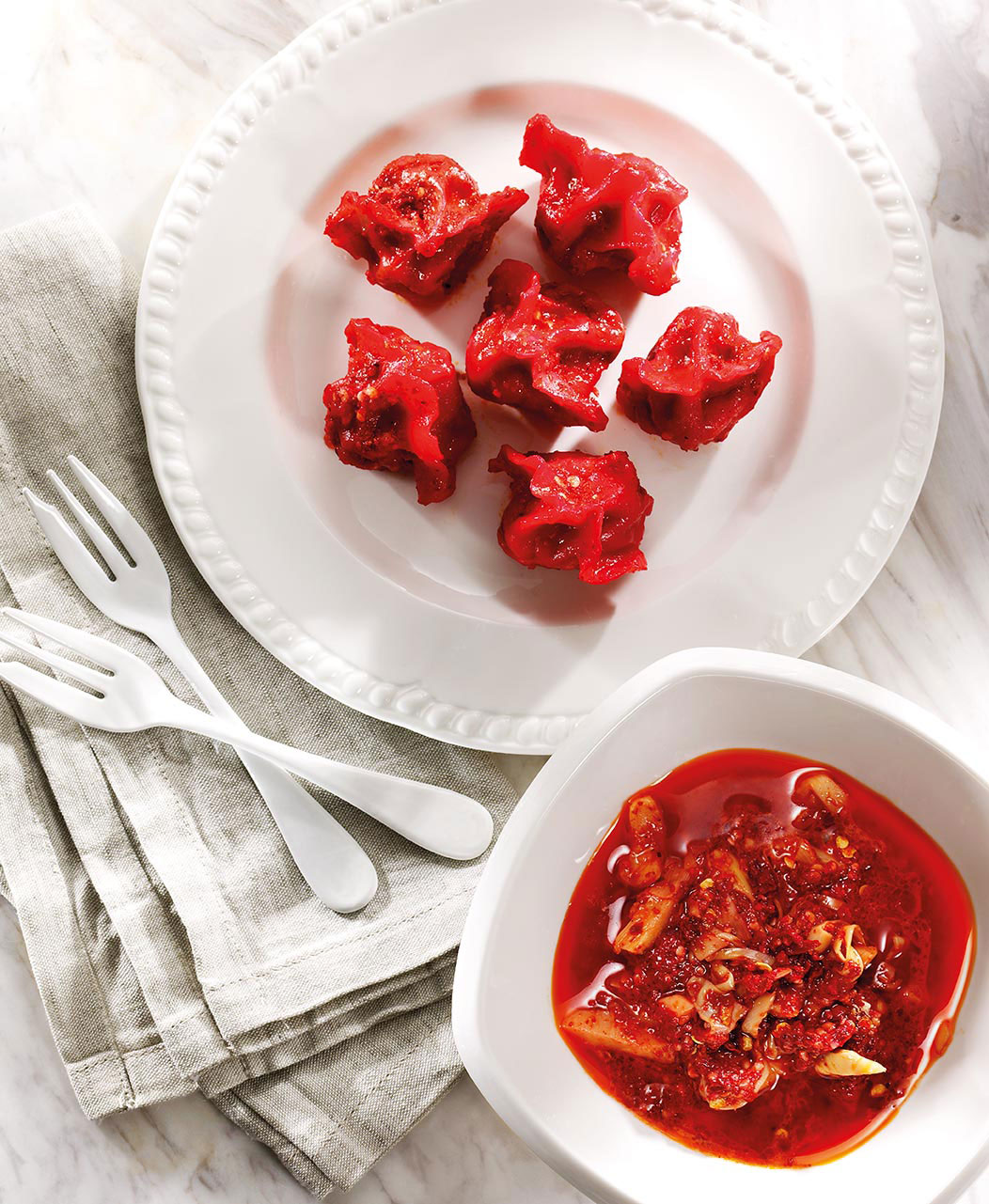 BURN FACTOR: 3.5/5
Serves 4 Prep time 40 minutes
Cook time 25 minutes
red chilli oil paste
½ cup rice wine
3 tbsp tomato paste
200g fresh chilli padi, deseeded
300g hot chilli pepper, finely blended
100g red chilli, deseeded
• Combine everything in a blender and purée until fine. Set aside.
meat filling
800g minced pork
pinch black pepper powder
pinch white pepper powder
2 tsp sea salt
2 tbsp soya sauce
1 tbsp hua diao wine or sherry
1 tbsp fish sauce
2 tsp sesame oil
vegetable base
1 inch grated ginger
4 tbsp coriander leaf and root, finely chopped
1 tbsp don cai (preserved vegetables), finely chopped
2 tbsp Chinese chives, finely chopped (optional)
3 tbsp Chinese cabbage, finely chopped
2 tbsp shiitake mushrooms, finely chopped
• Combine all the meat filling ingredients in a bowl and stir the mixture well till all ingredients are fully incorporated. Take note to stir the mixture in only one direction.
• Then, add in the vegetable base ingredients and incorporate. Set aside.
dumpling skin
pinch sea salt
1 cup cold water
4 cups plain flour
garnish
200g canned bamboo shoots
• To make dumpling skin, combine salt, 1 tbsp of red chilli oil paste and water in a bowl. Add plain flour slowly and knead the dough until all the flour is used. Keep kneading for 20 minutes until the dough shines. Then, stop kneading and cover bowl with a damp cloth.
• Roll dough until 2cm thick and cut to 1cm portions. Roll each portion into a ball and flatten with a rolling pin to form a round flat skin.
• Scoop one spoon of meat filling onto the flattened round skin and wrap like a dumpling.
• Bring a big pot of water to boil and put in the dumplings. Let the water boil again then add in a bowl of cold water. Wait for the water to boil again. Remove the dumplings and set aside.
• Heat up another pot, add in the rest of the red chilli oil paste and bamboo shoots and bring to a boil.
• Add in the cooked dumplings and cook for another 2 minutes before serving dumplings with bamboo shoots and red chilli oil paste on the side.