Red bean potong with azuki beans, toasted coconut, attap chee and sweet potato chips
Red Bean Potong with Azuki Beans, Toasted Coconut, Attap Chee and Sweet Potato Chips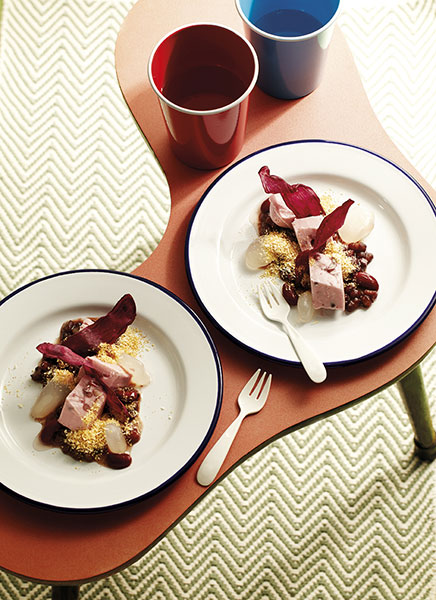 Serves 4
Prep time 35 minutes + overnight freeze time
Cook time 1 hour + 10 minutes
red bean potong ice cream
250g red beans, soaked overnight and drained
120g sugar
500ml coconut milk
150ml water
Cook the soaked red beans in a pressure cooker with just enough water to cover until soft. Transfer the softened beans to a sauce pot and cook with 120g sugar to sweeten.
Add 500ml coconut milk and water and stir till mixture has thickened, about 15 minutes. Transfer to a cold tray or rectangular container and freeze overnight to harden.
200g adzuki beans, soaked overnight and drained
750ml + 3 tbsp water
80g sugar
1 pandan leaf, knotted
1 tbsp cornstarch
1 purple sweet potato, peeled
cooking oil, for deep frying
8 attap chee (available canned in major supermarkets)
40g canned red kidney beans
30g desiccated coconut, toasted
Combine soaked adzuki beans, 750ml water and sugar together in a large pot. Bring to a boil then simmer until beans are tender, approximately 40 minutes.
Add knotted pandan leaf to the beans and allow to infuse for 5 to 10 minutes. Discard leaf and bring the mixture back to a boil. Mix the cornstarch with the remaining 3 tbsp of water and add to the mix to thicken. Remove from heat and let cool completely before chilling in the fridge.
Using a Japanese mandolin, thinly slice the purple sweet potato. Deep fry in cooking oil till crisp, about 5 minutes. Drain on paper towels.
Divide the chilled adzuki bean mixture on 4 serving plates. Cut the ice cream into blocks and across into diagonal wedges.
Place 3 ice cream pieces on the adzuki bean mixture and arrange 2 attap chee and 1 tbsp of red kidney beans around the ice cream. Sprinkle with toasted dessicated coconut and garnish with sweet potato chips to serve. Repeat to make 3 more portions.