Ratatouille from Ratatouille
The best of Provençal vegetables come together in this classic dish filled with country freshness. For a more refined dish to knock the socks off any food critic (think Anton Ego in Ratatouille) vegetables are sliced instead of diced for a different mouthfeel.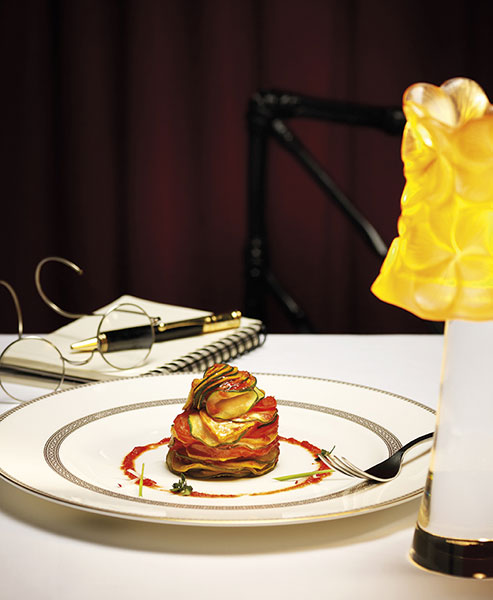 Serves 4
Prep time 10 minutes
Cook time 50 minutes
¼ cup olive oil, plus more as needed
1½ cups white onion, diced
1 tsp garlic, minced
2 cups medium eggplant, sliced with skin on
½ tsp fresh thyme leaves, chopped
1no green pepper, deseeded and diced
1no red pepper, deseeded and diced
1½ cup canned tomatoes, chopped
1 tbsp fresh basil leaves, thinly sliced
1 tbsp fresh parsley leaves, chopped
salt and freshly ground black pepper, to taste
1 cup green zucchini, sliced with skin on
1 cup yellow zucchini, sliced with skin on
Heat up olive oil in a cast iron sauté pan over medium heat.
Add diced onions and minced garlic and sauté on low heat until fragrant or lightly caramelised, for around 5 to 7 minutes.
Add eggplant and thyme to the pan and continue to cook, stirring occasionally, until the eggplant is partially cooked, about 5 minutes.
Add the green and red peppers and continue to cook for an additional 5 minutes.
Add canned tomatoes, basil, parsley, and salt and pepper, to taste, and cook for a final 5 minutes.
Put the cooked mixture onto the baking dish. Layer the yellow and red zucchini one after the others as shown.
Preheat an oven to 155°C and lightly roast the vegetables in the oven for 20min.
Serve hot or warm at room temperature.