Pulled skate wing sandwich with coffee barbecue sauce
No need for that early morning cuppa when you can combine it with your breakfast using our recipe for a caffeine-spiked barbecue sauce.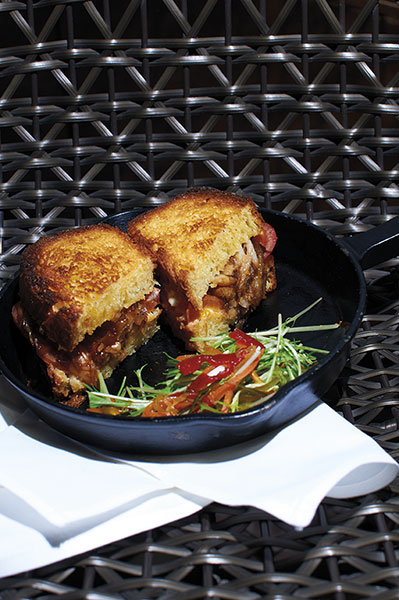 Serves 2
Prep time 10 minutes
Cook time 25 minutes
coffee barbecue sauce
100ml espresso (from a medium-dark roast with good acidity)
100g brown sugar
100ml sherry vinegar
50ml balsamic vinegar
25ml lime juice, freshly squeezed
25g dried apricot, minced
2 tbsp olive oil
100g onions, finely diced
25g garlic, sliced
1 star anise
300g Heinz tomato ketchup
Combine the hot espresso with sugar and let the sugar melt. Add the vinegars, lime juice and apricot, and let them sit while you prepare the rest.
In a small saucepot, heat olive oil and sweat the onions, garlic and star anise over a medium-low heat for about 10 minutes, or until they turn soft.
Add the coffee mixture into the saucepot and simmer until it turns a bit syrupy and its bubbles start to increase in size.
Whisk in the ketchup and bring to a strong simmer for 1 minute. Remove from stove and let it sit uncovered until cool. Transfer to a container for storage.
1 skate wing (300g)
salt and pepper, to taste
coffee barbecue sauce, to taste (for glazing)
sliced tomatoes, to taste
mayonnaise, to taste
Season the skate wing with salt and pepper. Roast it in the oven at 170°C for 10 minutes, or until meat starts to pull away from the cartilage. Glaze it with coffee barbecue sauce every 3 minutes.
Remove from the oven and let it cool down. With a fork, pull and shred some of the meat away from the cartilage.
Serve it on toasted brioche with tomatoes and mayonnaise or any preferred topping.