Pork trotters and peanuts braised with first brew soya sauce
The big and supple blend with 75 percent Grenache is dominated by notes of ripe fruits, anise and mild spices. The vino lends plummy and chocolatey flavour to braised pig trotters stewed in aromatic dark sauce.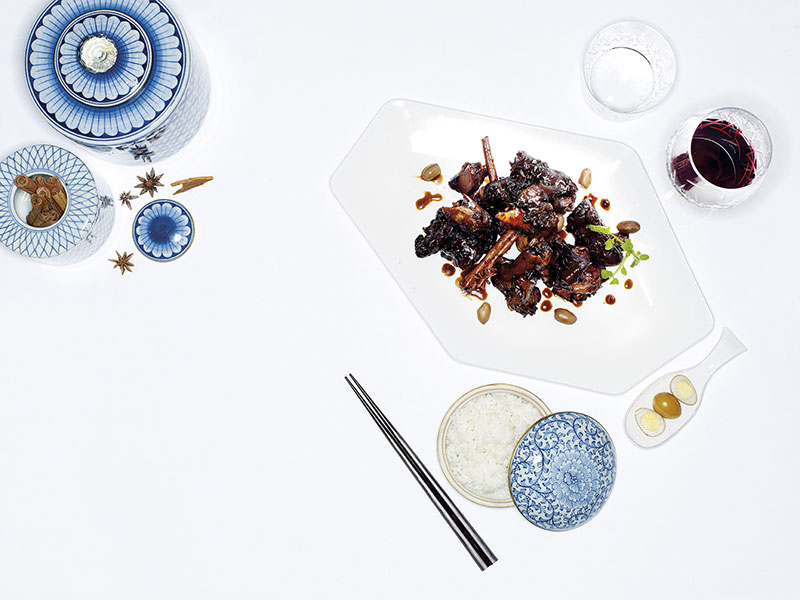 Wine: 2009 Osmose Gigondas AOC, Rhone Valley, France
Serves 4
Prep time 10 minutes
Cook time 30 minutes
700-900g pork trotters (about 2 pieces), chopped into 1½ inch chunks
3 tbsp olive oil
pinch salt and pepper
10 dried chillies, pre-soaked in warm water
1 bulb garlic, smashed whole with skin on
50g ginger, roughly sliced
40g blue ginger, roughly sliced
½ cup kecap manis
2 tbsp first brew light soya sauce
2 cinnamon sticks
8 cloves
3 star anise
2 tbsp black peppercorns, lightly roasted and put it in a spice bag
80g rock sugar
1 can braised peanuts
1 bottle Osmose Gigondas AOC or any other Grenache
1.2 litres water
salt and pepper to taste
garnish
1packet tau kwa, cut to bite size
20g Chinese celery, chopped
5 quail eggs, hard-boiled
20g watercress leaves
Bring a pot of salted water to a boil. Blanch the pork trotter chunks for 1 minute or until scum floats in the water. Remove the scum and drain off the excess water. Soak in ice water for 1-2 minutes and remove off the excess scum, drain and pat dry.
Oil the pork trotters with 1 tbsp of olive oil, and lightly season with salt and pepper.
Heat up a non-stick pan with 2 tbsp of olive oil, pan sear the pork trotters until golden brown.
With the pork still in the pan, add dried chilli, ginger, blue ginger, and garlic. Fry till fragrant.
Season with kecap manis and light soy sauce then add the spices, sugar and peanuts. Continue to fry it until fragrant.
Pour in the red wine and simmer to boil.
Add water and bring to a boil, then turn to low heat (about 2-3 minutes) and transfer the mixture to a pressure cooker. Lock up the pressure cooker as directed and cook for 20 minutes over high heat.
After 20 minutes, turn off the heat and release off the pressure. Add tau kwa, cooked quail eggs and Chinese celery and mix well.
Garnish with watercress leaves and serve with white rice.