Poached soon hock with angelica root and wolfberry leaf
Poached Soon Hock with Angelica Root and Wolfberry Leaf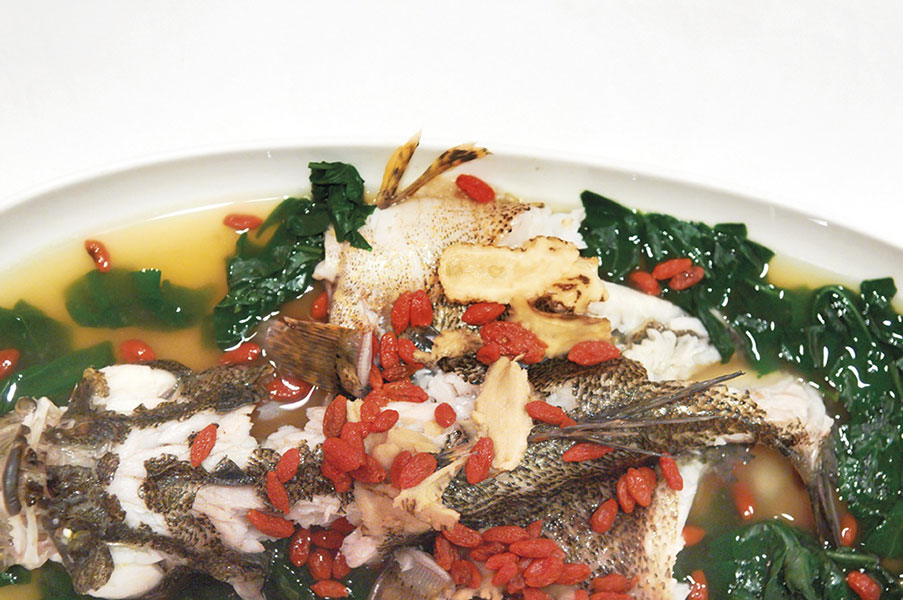 Serves 4
Prep time 5 minutes
Cook time 10 minutes
1 tbsp oil
20g angelica root (tong guai), sliced
1.5 litres chicken stock
600g soon hock fish, butterflied
20g wolfberry leaf (kow kee choy)
light soya sauce, to taste
salt, to taste
sugar, to taste
garnish
2 tbsp wolfberries
In a deep and large saucepan, heat up the oil. Stir-fry the angelica root for 1 minute till fragrant.
Pour in chicken stock and bring it to a boil.
Place fish into the saucepan, cover the pan with a lid and cook over strong fire for 2 minutes. Then turn fire down to medium and cook it for another 5 minutes.
Add in wolfberry leaves about a minute before the fish is done. Season to taste with soya sauce, salt and sugar.
Remove fish from pan and place it onto a long serving dish. Pour remaining poaching liquid over the fish and sprinkle wolfberries on top before serving.