Pineapple lemon verdita mocktail
This mocktail does away with the tequila but retains the rest of its refreshing, summer-ready ingredients namely, mint, coriander, pineapple juice and peppers.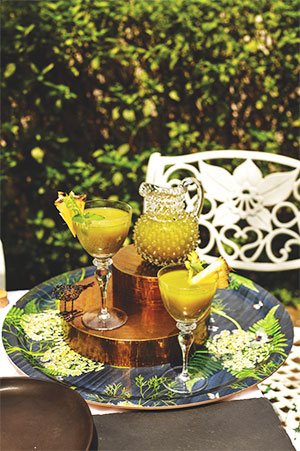 Serves 3-4
Prep time 10 minutes
1 honey pineapple
1 lemon, juiced
2 bunches coriander
1 bunch mint
40 drops Green Jalapeno Tabasco Sauce
Peel honey pineapple and remove the core. Cut into smaller chunks and place in a slow juicer. Add remaining ingredients and stir.
Serve chilled, over ice.
Photo: Ching
Balustre wine glasses, Haviland; jug, Bungalow 55