Pig intestines with sichuan pepper
Zhen says: "Sichuan peppers, which can be found in Chinese departmental stores like Yue Hwa, add a dash of spice and tang to this appetiser."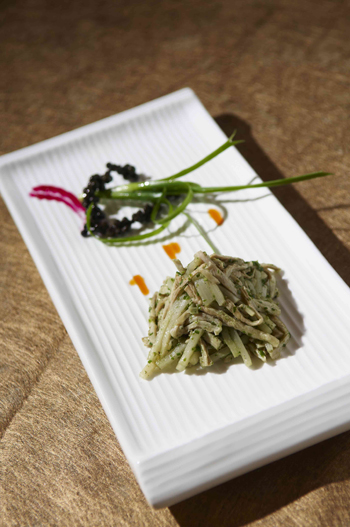 Serves 4 Prep time 10 minutes
Cook time 10 minutes
200g pig intestines
20g Sichuan peppercorns
5g ginger, finely sliced
15g leeks, finely sliced
50ml rice wine
100g bamboo shoots, finely sliced
3g chicken stock powder
500ml chicken stock
15g green bell peppers, diced into large cubes
15g leeks, for blending
½ tsp Sichuan peppercorn oil pinch of salt pinch of sugar
• Wash the pig intestines thoroughly. In a large wok, place bamboo steamer in the centre and lay pig intestines, Sichuan peppercorns, ginger and leeks on the steamer. Pour rice wine over the intestines and cover with wok's lid. Steam for about 10 minutes or until cooked.
• Let cool before slicing intestines into lengths of 5cm each.
• Boil the bamboo shoots with chicken stock powder and chicken stock. Remove bamboo shoots from the saucepan, discarding the chicken stock.
• Blend bell peppers and leeks in a blender. Then mix bell pepper sauce with remaining Sichuan peppercorn oil, salt and sugar.
• Toss the intestines and bamboo shoots with the bell pepper sauce mixture.
• Place on a plate and serve.
Zhen says: "Sichuan peppers, which can be found in Chinese departmental stores like Yue Hwa, add a dash of spice and tang to this appetiser."