Pickled watermelon rind
This refreshing and piquant mix cuts through oily meats and makes great bedfellows with duck and game.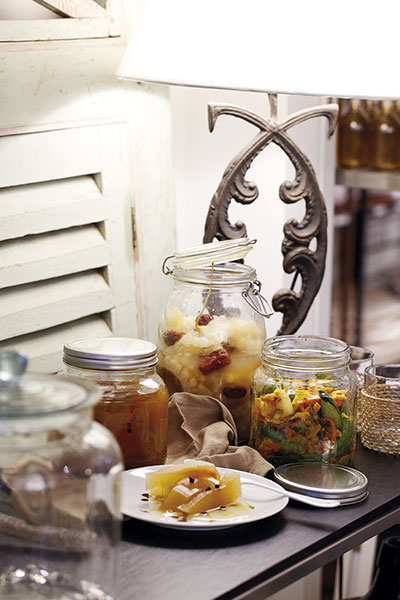 Serves 6-10
Prep time 15 minutes
Cook time 40 minutes
1kg fresh watermelon rind with a bit of pink flesh on the side
1 tbsp whole cloves
5-inch-long cinnamon stick, broken into 1-inch pieces
700ml water
1 litre white wine or cider vinegar
1kg sugar
30g ginger, smashed
2 red chilli padi (cut open the chilli for a spicy version)
Cut the watermelon skin into mini batons—2cm-wide and 7cm-long.
Wrap the clove and cinnamon stick in a cheesecloth.
In a pot, bring the water, vinegar and sugar to a boil, then add in the watermelon rind, ginger, chilli padi and cheesecloth.
Place the watermelon rind into the mixture to cook on medium heat for about 30-40 minutes or until the rind turns translucent.
Bottle as shown and let sit for at least 2 weeks before consumption.