Pan-seared star grouper fillet in supreme soya sauce
Pan-Seared Star Grouper Fillet in Supreme Soya Sauce
Wine Pairing Laurent Perrier Brut NV Champagne, France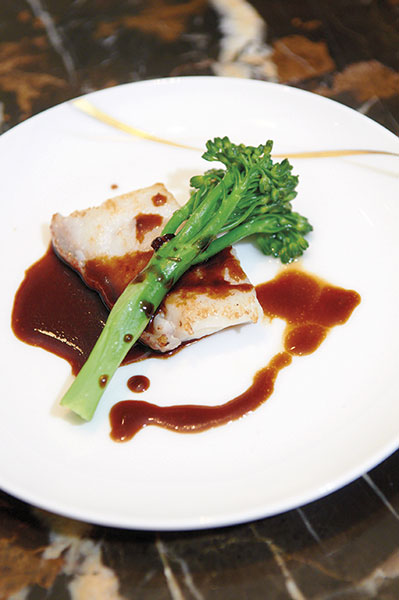 Serves 4
Prep time 15 minutes
Cook time 30 minutes
egg white from 1 egg
dash sesame oil
dash pepper
1 star grouper fillet, approximately 500g, portioned into 4 pieces
vegetable oil, for pan-frying
2 cloves garlic, minced
1 small onion, minced
1 small piece dried flounder
50ml superior light soy sauce (Pearl River Bridge brand, available at Yue Hwa)
20ml aged soy sauce (Pearl River Bridge Brand, available at Yue Hwa)
1 cup water
2 tbsp sugar
300ml supreme chicken stock
300g baby broccoli, poached
Mix egg white with a dash of sesame oil and pepper. Stir well and coat the fish fillets evenly with the mixture.
Add oil into a heated pan and fry the fillets for about 2 minutes on each side until golden brown. Set aside.
In the same pan, add 2 tbsp of oil and deep fry garlic, onions and dried flounder. When crisp and fragrant, add in all the remaining ingredients and bring to a boil. Cook for 10 minutes, then pour over the fish and serve with poached baby broccoli.