Pan roasted bison steak with herb butter and bacon-stuffed jacket potatoes
Bison meat is a great alternative to beef. Not only is it leaner and more nutritious, bison has a richer flavour. With fewer fats, caution must be taken to guarantee that you do not overcook bison steak.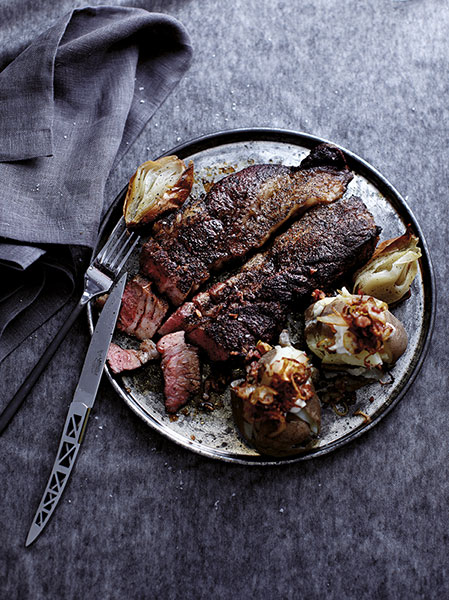 Serves 1
Prep time 10 minutes
Cook time 65 minutes
herb butter
½cup unsalted butter, softened
pinch salt and pepper
1tbsp fresh rosemary, chopped
Combine all herb butter ingredients and chill in the fridge.
bacon stuffed jacket potatoes
2 russet potatoes, freshly steamed
1 tbsp sour cream
1 tbsp spring onions, chopped
30g bacon, chopped to bits and fried till crispy
pinch salt and pepper
Cut a cross onto the freshly steamed potatoes and top with a dollop of sour cream, spring onions and crispy bacon. Season with salt and pepper to taste.
1 cup green papaya purée
300g bison brisket
3 tbsp rock salt
1 tbsp pink peppercorns, lightly toasted
2 tbsp brown mustard
½ cup Jack Daniel's whiskey
2 white onions
pinch black pepper
Slather green papaya purée over the bison brisket and allow it to tenderise the meat overnight in the fridge.
Remove the excess papaya purée and season with rock salt, pink peppercorns and mustard.
Heat up some oil in a grill pan and sear all sides of the bison brisket.
Deglaze with whisky.
Lower the heat and grill the meat for 3 to 5 min or until medium raw.
Allow the meat to rest in the pan for at least 20 min before eating.
Roast white onions with oil, salt and pepper, in the preheat oven of 145°C for 40 min or until the bulb of the onion is soften.
Serve the steak with the bacon stuffed potatoes, onions and herb butter.