Pan-fried salmon and baby carrots with orange butter
This balsamic-glazed salmon is just the thing for a lazy lunch; it requires almost no prep time and goes well with soba noodles or brown rice.
Serves: 2
Prep time: 2 minutes
Cook time: 15 minutes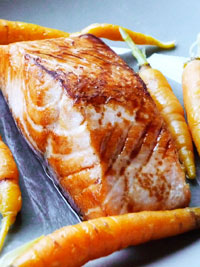 2 tsp sea salt
2 salmon fillets, about 150-180g each
juice from ½ orange
4 tbsp butter
2 tbsp brown sugar
30g baby carrots, boiled
1 tbsp olive oil
3 tbsp thick/reduced balsamic vinegar
Rub sea salt on each side of salmon fillet. Leave aside for at least 30 minutes.
Heat up a non-stick pot on medium heat. Combine orange juice, butter and sugar into the pan. Stir till sugar dissolves. Add carrots. Simmer until liquid is reduced. Set aside.
Heat up a non-stick pan with olive oil. On medium-high heat add salmon fillets. Pan-fry on each side for 2-3 minutes.
Place salmon fillets on a plate sided with baby carrots. Drizzle balsamic vinegar over the salmon and serve.