Pan-fried hokkaido scallop gyoza ravioli with oba tomato sauce and yuzu oil
Gyoza skins double up as ravioli wrappers in a pinch.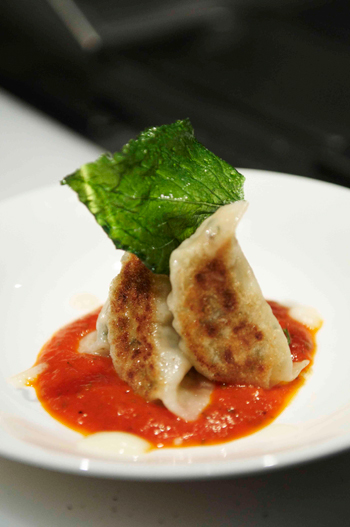 Serves 10 Prep time 75 minutes
Cook time 37 minutes
oba tomato sauce
2 tbsp olive oil, for frying
1 garlic clove, peeled and chopped
50g onions, peeled and chopped
1.2 litre whole Italian tomatoes, canned
1 dried bay leaf
salt and pepper to taste
3 oba leaves, thinly sliced
yuzu vinaigrette
1tsp egg white
3 tbsp yuzu juice
8 tbsp grapeseed oil
scallop gyoza
400g Hokkaido scallop, roughly chopped
100g onions, peeled and chopped
50g Chinese chives, chopped
3 fresh shiitake mushrooms, chopped
2 garlic cloves, grated
20g ginger, grated
salt and pepper to taste
1 tsp sesame oil
1 egg yolk
1 ½ tsp kochujan (Korean chilli paste)
2 tsp soy sauce
gyoza skin 30pcs (1 packet of 24pcs)
1 tbsp cooking oil, for frying
2 tsp sesame oil, for frying 200ml water, for cooking
garnish
10 deep fried crispy oba leaf (1 per dish)
Heat olive oil in a pan and sweat the garlic and onions.
Add canned Italian tomatoes and its juice into the pan.
Add bay leave and cook for 20 to 30 minutes, then remove the bay leave. Stir, add salt and pepper to taste.
Add sliced oba leaves in to the sauce before serving to retain the full flavour and colour. Set aside.
Combine ingredients for yuzu vinaigrette in a bowl and mix well. Set aside.
Mix chopped and grated ingredients in a bowl. Add salt, pepper, sesame oil, egg yolk, kochujan and soy sauce.
Rest in the refrigerator for 30 minutes.
Wrap 2 teaspoons of the mixture into each gyoza skin.
Heat 1 tbsp of cooking oil in the pan to 180°C to pan-fry gyoza. When the gyoza turns golden brown on one side, add 200ml water into the pan. The gyoza should be covered to about 1/3 of its height. Cover pan with lid to steam the gyozas.
Cook until water has evaporated, then add 2 tsp sesame oil around the gyozas. When the gyozas turn crisp at the bottom, remove from the pan.
On a plate, pour about 60ml of tomato sauce.
Dust each oba leaf with a little tempura flour, then deep-fry in oil that is heated to 140°C.
Place gyozas on the sauce and drop 2 to 3 tsp yuzu oil into the sauce. Garnish with oba leaves. Serve.