Pan-fried barramundi with pickled chilli sauce
Marinate the chillies overnight with rice vinegar and salt for a piquant yet fiery sauce to perk up the flaky white fish.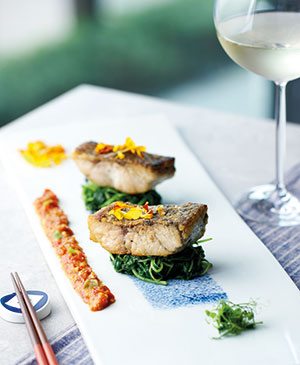 Pair with: Mount Langi Ghiran Cliff Edge Riesling
The crisp white wine works brilliantly here, with complex citrus notes and hints of blossom tempering the spiciness of the pickled chilli sauce.
Serves 2
Prep time 25 minutes + overnight marination
Cook time 20 minutes
pickled chilli sauce
300g red chillies
10g salt
200ml rice vinegar
50g chicken skin
10g minced ginger
10g minced garlic
5g black soybeans
100ml water
Roughly chop red chillies into squares. Marinate with salt and rice vinegar overnight.
Rinse chicken skin, pat dry and cook over low heat until skin is golden brown. Remove skin. Add ginger and garlic into the resulting oil and cook for 1 minute. Add marinated chilli, black soybeans and water. Bring to a boil, then simmer and set aside.
pan-fried barramundi
150g Chinese spinach
1 tbsp vegetable oil
2 barramundi fish fillets (approximately 130g each)
salt and pepper, to taste
edible flowers, optional
Cook spinach in boiling water till slightly wilted. Drain.
Heat a saucepan with vegetable oil over medium heat. Place fish, skin side down, and pan-sear until skin is crisp and golden brown (do not move the fish around as it cooks). Flip and cook for another minute. Season with salt and pepper.

Divide spinach into two mounds and place one fillet on top of each. Serve with pickled chilli sauce and flower petals, if desired.